Days Of Our Lives Spoilers: Bope Cliffhanger May Leave Fans Disappointed, Once Again
Days of Our Lives (DOOL) spoilers suggest Bo Brady (Peter Reckell) and Hope Williams Brady (Kristian Alfonso) will finally come together the week of April 24th, although Fancy Face's joy will turn to devastation when she realizes that Bo is brainwashed. There seems to be a massive amount of drama the couple will face, including some craziness on the edge of a cliff, which leads to Mr. Brady pointing his gun at the "love of his life". What comes next is uncertain; however, no matter what the turnout is, it'll likely leave Days fans disappointed.
Days Of Our Lives Spoilers – There Will Be Lingering Questions For Fans, Possible Devastation
Days spoilers hint that something "amazing" will happen between Bope this week, but a "cliffhanger" might also be on the horizon. Whether Bo ends up falling off the cliff so he doesn't shoot Hope (and is presumed dead once again), or he hurts himself and lands into a coma, there will be lingering questions after Bope's latest run ends.
Both Peter Reckell and Kristian Alfonso made it clear during a Soap Opera Digest podcast that they've only committed to about 15 episodes for this latest stint, so fans know they won't have Bope around on their daytime screens for much longer. As Bo is still brainwashed, and likely exiting storylines soon, there's little chance that fans will revel in a Bope reunion, even if he does "remember" and the two come together.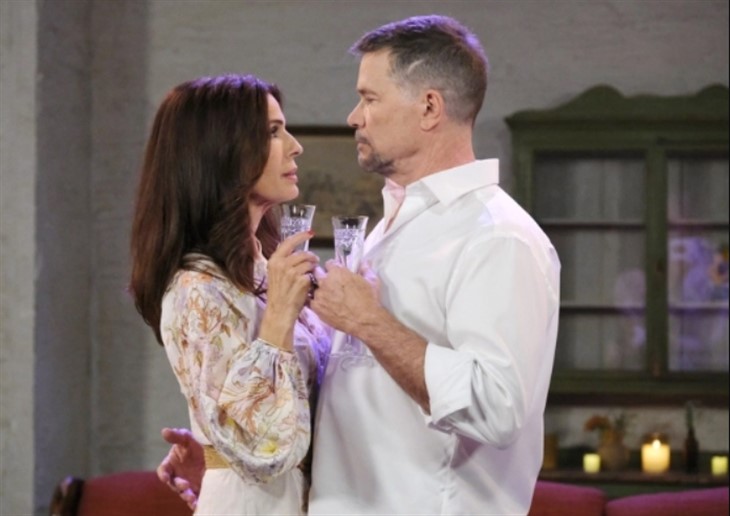 DOOL Spoilers – Will The Writers Ever Get It Right?
Bope fans have been bitter for a while now and rightfully so. The way Bo was written out of storylines when the actor exited the show in 2012 was wrong on so many levels. The writers tried to simply erase him from arcs, not giving Reckell or Bo the proper exit that was deserved. Plus, a lot of what Mr. Brady did during is time away was against his character. Therefore, when fans found out that Bo was returning in 2015, this was a second chance for the show to make right a wrong.
In some ways, they did that, but it was tremendously disheartening for audiences to welcome back a beloved character, only for him to exit again. It seemed as quickly as Bo returned to Salem; he was gone again. Except, this time with his brain tumor and death, it was all very "final". Viewers were expecting a nice run and storyline for Bope, but all they got was the rightful farewell Mr. Brady and Reckell should've received in 2012.
Days Of Our Lives Spoilers – Fans Need To Gear Up For More Disappointment
If fans are expecting a Bope reunion where the couple rides into the sunset, they need to gear up for more disappointment.
Looks like Bo and Hope *may* reunite before disaster strikes again, but it won't be a lengthy one. DOOL built up this Bope reunion through previews and spoilers. It seemed as if Bo and Hope would struggle to find each other, but not at the end of their run. To have Bo and Hope apart for most of this storyline is a disservice to both fans and the Bope romance. While it's likely they'll be back in Salem again at some point, this last arc for the super couple has been a major downer.
Have you enjoyed the latest Bope storyline? Share your thoughts in the comment section! Tune into DOOL on Peacock to see what happens next and visit this site for all the best Days news and spoilers.