Days Of Our Lives Spoilers: Brady Jealous As Chloe Moves In With Stefan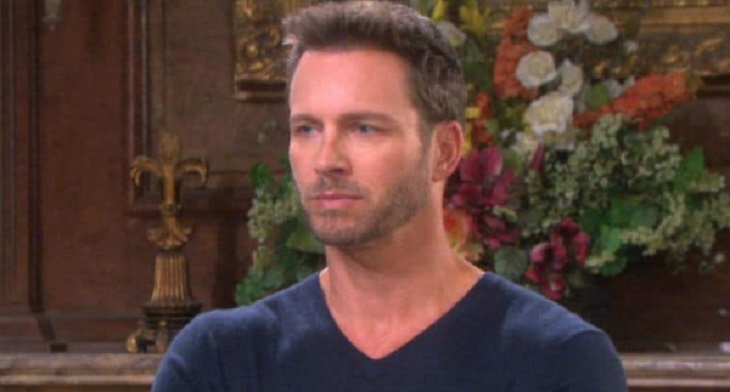 Days of Our Lives (DOOL) spoilers tease that Brady Black (Eric Martsolf) will soon be green with jealousy. He was horrified to hear about the recent attempt on Chloe Lane's (Nadia Bjorlin) life at Doug's Place. Chloe, who last year killed El Fideo (Antoni Gracia), was accosted and nearly killed by his men at the club. Luckily, Stefan DiMera (Tyler Christopher) was there and saved her life.
Chloe was also told that neither she nor her children would ever be safe again, and that's got her really scared. Brady kindly offered to let her stay at the Kiriakis mansion, but Victor Kiriakis (John Aniston) quickly shot down that idea.
Later, Chloe received yet another threat on her cell phone as she was visiting Stefan to thank him for saving her life. This really unnerved Chloe, and Stefan could see how terrified she was. Stefan offered to let Chloe and her kids move into the DiMera mansion, where she'd be sure to be safe.
According to Days spoilers, Chloe will accept Stefan's offer, and she, Parker Jonas (Christian Ganiere), and Holly Jonas (Harlow and Scarlett Mallory) will move into the DiMera mansion. It will be a move that will leave other people scratching their heads, and it will really upset Brady.
Brady will of course feel that Chloe would be much better off staying with him in the Kiriakis mansion. And he'll probably also wonder whether there might be some sort of spark between Stefan and Chloe, given that Stefan rescued Chloe from El Fideo's men. He'll feel like he needs to keep tabs on Chloe and make sure that she's really ok living with Stefan.
Of course, all of this jealousy stems from the fact that Chloe and Brady have been getting closer lately. Brady strongly supported Chloe when Holly's custody became an issue with Eric Brady (Greg Vaughan), and the two have enjoyed a renewal in their relationship.
So fun seeing these two happily married. Don't you agree?! @nbcdays pic.twitter.com/KPD1qIwpOR

— Deidre Hall (@DeidreHall) February 7, 2019
But one has to wonder whether Brady and Chloe will be able to continue being as close now that Chloe will be living with Stefan. Days spoilers say that Brady won't be too understanding about Chloe's decision to move in with Stefan, so it will be interesting to see where things go from here.
Do you think that Chloe and Brady still stand a chance as a couple, now that Chloe will be living with Stefan? Or are we going to see a Chloe/Stefan pairing?
As always, more detailed spoilers and a full collection of pictures for the week in question will appear here on CTS, where there will be more clues and hints over exactly what's going on.
Read more Celebrating the Soaps news, spoilers, and gossip on our Days Of Our Lives homepage