Days Of Our Lives Spoilers: Cin Expecting Baby #2, Beauregard Gets A New Sibling
Days of Our Lives (DOOL) spoilers for the week of March 20th indicate that Ciara Weston (Victoria Konefal) and Ben Weston (Robert Scott Wilson) will make an appearance on the soap opera. Makes sense Cin would return, especially in light of Bo Brady (Peter Reckell) and Hope Williams Brady's (Kristian Alfonso) comeback. However, from the sounds of it, they won't only drop in to say, "hello", they'll have some interesting news to share.
Days Of Our Lives Spoilers – Ciara And Ben Weston Get Some Exciting News …
Days spoilers for Friday, March 20th hint that Cin will get some exciting news during their return appearance. What could this be about? At the end of the day, with Hope back in the picture, this could mean that their mom is coming for a visit, or it might be something more.
It's hard to believe that Bo will be found and saved in a matter of a week, so fans can rule out the idea that Ciara finds out her father is back in the land of the living. With that said, will Cin be given some baby news?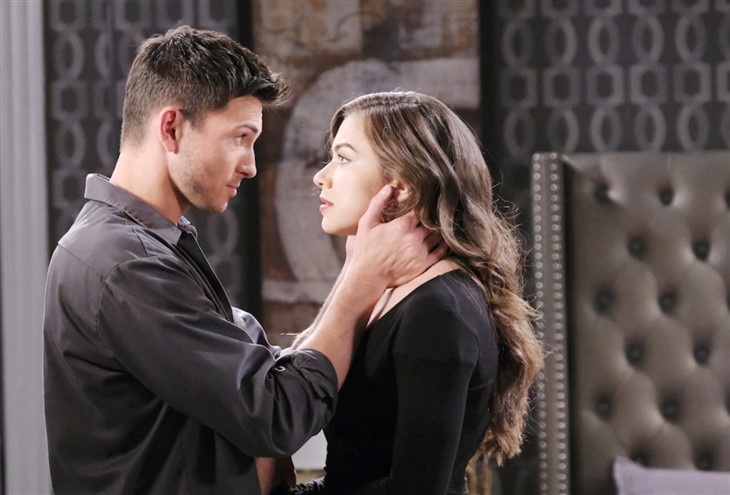 DOOL Spoilers – And Then There Was Four, Cin's Family Continues To Grow
Could Cin find out that they are expecting another baby? After all, little Beauregard Weston (Cody and Warren Kransnow) might be getting to an age where he could use a sibling. It certainly wouldn't be out of the ordinary for the two to want to grow their family even more, right away. Especially in light of how Ciara's first pregnancy was tainted by Devil drama. Now that they are living harmoniously out to sea, they may be ready to expand their family and enjoy awaiting baby #2 with no demons around.
Then again, Ciara's pregnancy could play into the current storyline. Hope will eventually learn that Megan Hathaway (Miranda Wilson) has her Bo locked up, and there will inevitably be action and adventure to get him back. If Ciara joins the rescue efforts (even as an expectant mom) and anything happens to Baby Weston while she's on this crusade, the animosity Bo and Hope have against Stefano DiMera's (Joseph Mascolo) daughter will only increase.
Could Ciara be expecting or will Cin get some other "exciting" news? Have your say and leave a comment below! Don't forget to tune into DOOL on Peacock regularly to see how all this unfolds, and visit this site daily, for the latest Days news and spoilers.