Days Of Our Lives Spoilers: Colin Responsible For Mother's Death
Days of Our Lives spoilers suggest that Colin Bedford (Jasper Newman) is far from the heartbroken young man he wants Talia Hunter (Aketra Sevellian) to think. Rafe Hernandez (Galen Gering) and Jada Hunter's inquiry with Scotland Yard may bring a whole new side of him to light.
Days Of Our Lives Spoilers – Rafe Hernandez Is Determined To Arrest Colin Bedford
Days Of Our Lives spoilers reveal that after getting an answer back about Colin, Rafe will be ready to arrest him. Rafe and Jada will set out to find Colin but will have no luck doing so.
Rafe has no idea that Colin has dressed up as the health inspector and attacked both Paulina Price (Jackee Harry) and Abe Carver (James Reynolds).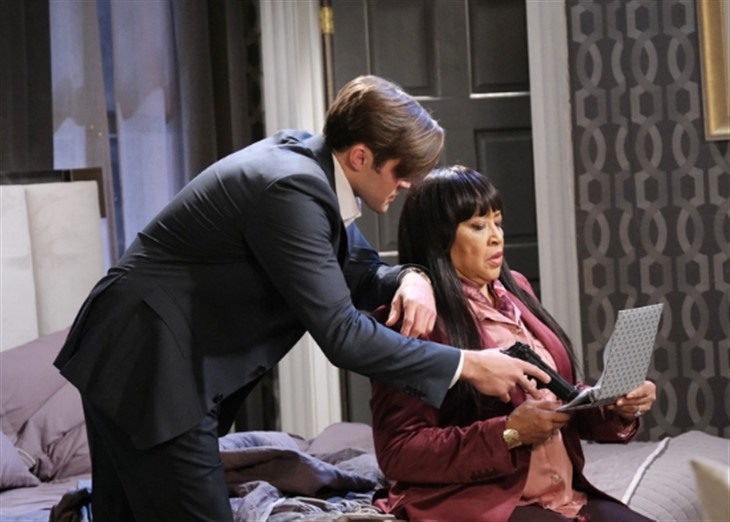 Whether they know it or now, Rafe and Jada are in a race against time. Colin will end up knocking out Abe and taking Paulina hostage.
Colin and Paulina will end up on a rooftop and he will try to force Paulina to jump from the building. Will Colin force Paulina off the rooftop and kill her just like he blames Chanel Dupree (Raven Bowens) for doing to his mother?
DOOL Spoilers – Did Colin Bedford Kill His Mother?
What if Colin was involved in his mother's death? Colin has some sort of record in London where his mother was killed.
Chanel may have been on the rooftop with Martha Bedford, but what if Colin set the whole thing up? How did Martha find out about Chanel and her husband? Suppose Colin was responsible for the whole rooftop scene.
Colin doesn't handle betrayal very well at all. Perhaps Colin found out about his father and Chanel. Colin could have gotten his mother hyped up to confront Chanel just like he manipulates Talia.
Colin could have lured Chanel to the rooftop and arranged the meeting with her and his mother. When Martha fell off the roof, it could have completely been because of Colin's plan
Days Of Our Lives Spoilers – Is Colin Bedford Deflecting?
Colin obviously has mental issues and they could be caused by his mother's death. Perhaps Colin cannot face the fact that he put his mother on that roof.
Could Colin be putting his guilt on Chanel even though he is responsible for his mother going after Chanel? Did Colin put both ladies in danger by setting up this attack?
Colin is hellbent on revenge but it seems that he wants Chanel to pay in every way possible. Colin refuses to accept that the courts have cleared Chanel.
Did Colin mean for Chanel to get killed but his plan backfired? Is Colin so determined to make Chanel pay because he believes he will feel less guilty if Chanel loses even more than she already has?
Be sure to catch up on everything happening with DOOL right now. Come back here often for Days Of Our Lives spoilers, news, and updates.