Days Of Our Lives Spoilers: Is History Repeating Itself-Did Megan Just Make Up Another Fake Son For Her And Bo?
Days of Our Lives spoilers and rumors tease that history could be repeating itself as Megan Hathaway (Miranda Wilson) may have just made up another fake son. Megan would never want a child with anyone except Bo Brady (Peter Reckell) and she made one up years ago as well.
Days Of Our Lives Spoilers – Megan Hathaway Claimed A Miscarriage
Years ago when Megan was sixteen, she claimed she gave a baby of Bo's and hers up for adoption at her mother's request -and he joined the Merchant Marines.
However, Roman Brady (Josh Taylor) had seen her coming out of an abortion clinic around that time, and the story was she miscarried from a botched abortion.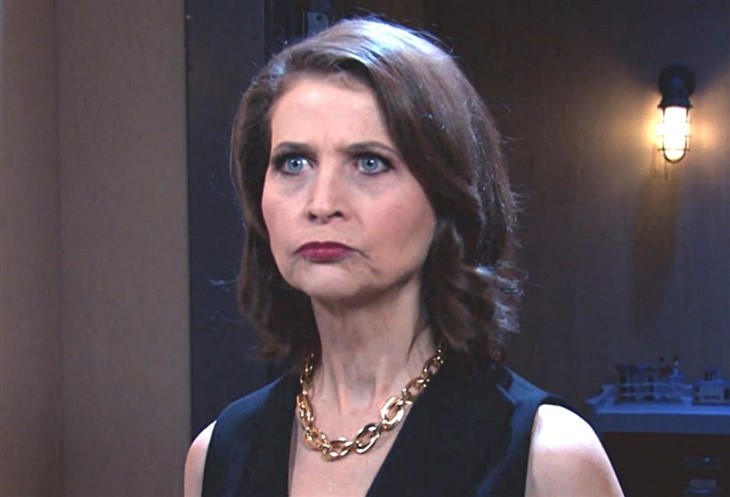 Megan and her adoptive parents, Maxwell Hathaway (Tom Hallick) and mother (never cast) moved to New Orleans but Megan told Bo they had a little boy.
Megan's mother had died by this time and apparently Maxwell didn't know about the baby either, but he and Megan worked together to "find" her and Bo's son.
They knew of a woman who had given a son up about the right age and found his parents, him sick in the hospital the woman was killed and they claimed him.
DOOL Spoilers – Baby Boy Hathaway-Brady Would Be Five Years Older Than The Brady Twins
Bo and Roman did an investigation that proved this little boy was not Megan's and Bo's and the birth mother being killed was faked.
Bo soon reunited with Hope Williams Brady (Kristian Alfonso) and soon they were married and had children of their own, Megan eventually being electrocuted in a hot tub.
Megan had set up for Hope to die in the hot tub but she did instead-nothing was heard again until she resurfaced, and revealed Stefano DiMera (Joseph Mascolo) cryogenically preserved her. Dr. Wilhelm Rolf (Richard Wharton) resurrected her when the time and technology was right.
She revealed Dimitri Von Leuschner (Peter Porte) is her son-but if she tries to say he's the miscarried son, he'd be five years older than Roman's twins unless he was reverse-SORASED!
Days Of Our Lives Spoilers – Not A Cousin Of Carly Manning And Frankie Brady?
When Dimitri first appeared as ISA agent Kyle Graham, he was revealed to be a Von Leuschner and a cousin of Carly Manning (Crystal Chappel) and Frankie Brady (Billy Warlock). But Megan would have never slept with anyone but Bo, so how does she explain Dimitri being her son-he's never revealed his childhood but knew of Carly and Frankie.
It's not certain what age Dimitri actually is, but could Megan long ago have kidnapped a child after she was resurrected?
Eric and Sami Brady (Greg Vaughan, Alison Sweeney) both look older than he does-could Stefano have procured Megan's miscarried child as well, or did Megan make up another fake son?
Be sure to catch up on everything happening with DOOL right now. Come back here often for Days Of Our Lives spoilers, news, and updates.