Days Of Our Lives Spoilers: Gabi's Valentine's Crisis, Stefan's Secret Double Date
Days of Our Lives spoilers reveal that Gabi Hernandez (Camila Banus) finally got Stefan DiMera (Brandon Barash) to remember their love. However, Stefan still also loves Chloe Lane (Nadia Bjorlin). Gabi gets hopefully when Stefan invites her on a Valentine's dinner date. However, Gabi's hopes are crushed when Chloe also shows up. What exactly is Stefan doing and what does he hope to accomplish?
Days Of Our Lives Spoilers – Gabi Hernandez's Desperation
DOOL spoilers reveal that Gabi has been desperate for Stefan to remember their love. Since Stefan's resurrection, he has hated Gabi while thinking he's in love with Chloe. Thanks to Kristen DiMera (Stacy Haiduk) and Dr. Wilhelm Rolf (Richard Wharton), Stefan was brainwashed.
DOOL Spoilers – Memories And Complications
Now that Gabi knows the truth about Stefan's memories, she wants her man back. However, Dr. Rolf's deprogramming encountered complications. Dr. Rolf didn't have all of his equipment and after some unexpected sparks, Stefan remembered his intense love for Gabi. However, Stefan also was madly in love with Chloe at the same time.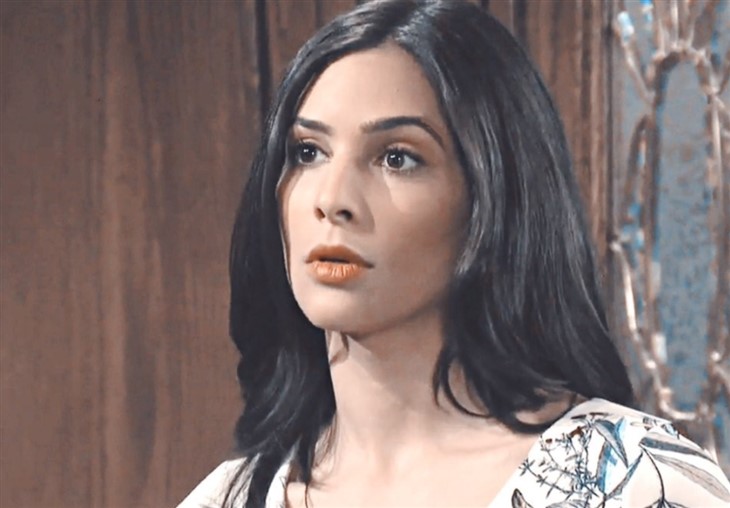 So, now Gabi has the problem of making sure Stefan chooses her in the end. This isn't easy for Stefan, either. However, Stefan can't have a war on his hands while he makes up his mind about the love triangle.
Days Of Our Lives Spoilers – Stefan DiMera's Valentine's Date
Days of Our Lives spoilers reveal that Valentine's Day will roll around. Stefan will invite Gabi out on a dinner date. Gabi will be filled with hope that it means she is winning Stefan's heart again.
However, Gabi's special night will turn into a nightmare when Chloe shows up. At first, Gabi will probably lash out at Chloe for crashing Stefan's date. However, what if Chloe was actually invited by Stefan? After all, crashing dates isn't how Chloe operates.
DOOL Spoilers – Unexpected Understanding
Even though Gabi can be feisty when it comes to love, Stefan might be trying to diffuse the situation with the double date. Stefan just might bring up all the reasons why he loves Gabi. However, Stefan could also explain why he's also in love with Chloe.
Stefan knows he has a decision to make. Until then, he might want to make sure that Chloe and Gabi understand that fighting over him won't make the decision quicker or any easier.
Of course, Stefan might also claim that it wouldn't be fair for either woman to be alone on Valentine's Day. Will Chloe and Gabi be able to stay civil? Which woman will Stefan end up choosing?
What do you think is going to happen on Valentine's Day? Will Stefan actually invite both Chloe and Gabi out for Valentine's Day? Share your thoughts and remember to keep watching the soap on Peacock to find out what happens next.
Be sure to catch up on everything happening with DOOL right now. Come back often for Days of Our Lives spoilers, news, and updates.