Days Of Our Lives Spoilers: Hope Brady Pays Harris Michaels A Visit, Sparks Fly
Days of Our Lives (DOOL) spoilers suggest that some old feelings may pop up between Hope Williams Brady (Kristian Alfonso) and Harris Michaels (Steve Burton), the week of March 20th. In a desperate attempt to get to Megan Hathaway (Miranda Wilson), Hope tries to reach out to Harris. However, will Ms. Brady get more than she bargained for when the two come face to face?
Days Of Our Lives Spoilers – Hope Brady's Heart Belongs To Bo, But She Still Has Feelings For Harris Michaels
Days spoilers for the week of March 20th indicate that Hope will gain access to Harris through Andrew Donovan (Colton Little), who allows the two to meet at an ISA facility. Steve Burton recently breaks down the two's first encounter since their sham of a wedding during Beyond Salem, while talking to Soap Opera Digest (SOD). Burton notes that Harris is in an enclosed-glass room at a lab testing center. Steve also reveals Michaels is in the room for his own protection, and to ensure he doesn't hurt anyone. His actions have caused those running the facility to worry about him. It seems that the ISA is trying to deprogram him; however, Harris isn't fully cooperating with them. In fact, Hope will first learn about this all when she gets to the center.
According to Burton, at first, the ISA is hesitant to allow Hope into the room, but she eventually convinces them she'll be fine. The good news is that she does make progress with Harris, during their meeting.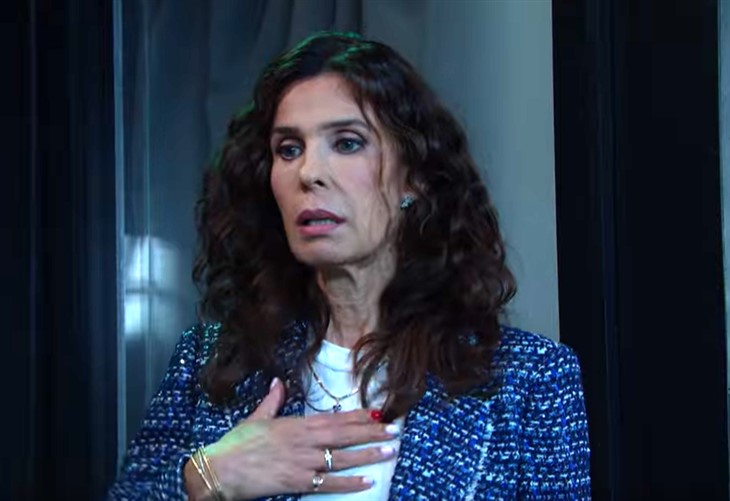 DOOL Spoilers – Hope Brady Convinces Harris To Move Forward With Treatment
During his SOD interview, Burton reveals that while Hope has clearly forgiven Harris for what went down while Megan had him brainwashed, he still doesn't forgive himself. With that said, Steve does say that Harris and Hope have enough of a connection where he trusts her. When she encourages him to cooperate with the ISA's treatment, he agrees to try. Burton notes it's also important for Michaels to be completely out from under Megan's control by being deprogrammed. More importantly, he's willing to go the extra mile to ensure that he not only is able to free himself from Hathaway's evil plot but to stop her before she hurts anyone else.
Sounds like Harris Michaels's first week back in Salem will be a big one. It also sounds like the scene between him, and Hope will be intense. But will fans see sparks fly?
Are you excited about Harris Michaels's return to Days? Leave a comment below. Don't forget to tune into your favorite soap on Peacock to see the drama unfold. Plus, visit HH for recent DOOL updates and spoilers.