Days Of Our Lives Spoilers: John Comes Clean To Marlena About Leo, Did Diana Tell Him The Truth?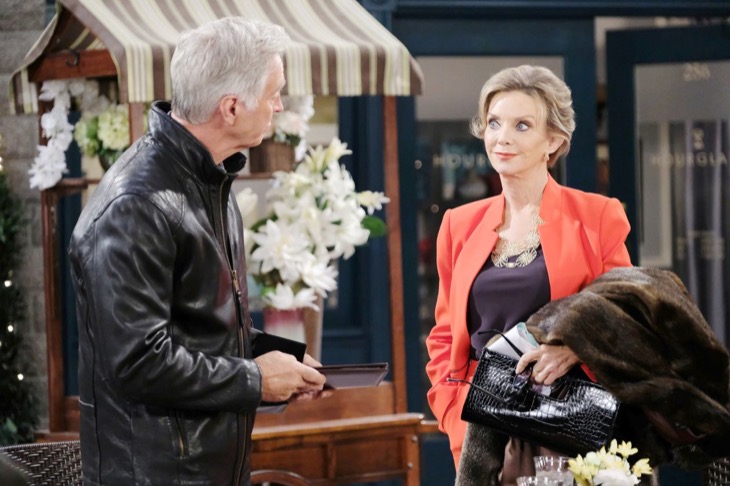 Days of Our Lives spoilers tease that John Black (Drake Hogestyn) will feel he has to come clean to his wife Dr. Marlena Evans (Deidre Hall) after Diana Colville Cooper (Judith Chapman) confirms he is Leo Starke/Matthew Cooper's father—or is he?
The timing seems right, but other Days of Our Lives spoilers tease that Diana may be pulling a con on John, because she wants him back, and thinks making him think that they have a child together will help her achieve that end! Diana may also be planning to try to put a wrecking ball into John and Marlena's marriage!
Days of Our Lives previews for the week show John and Marlena having a romantic dinner, probably for Valentine's Day. But will this be where he plans to spring this surprise on Marlena? It probably won't bother her that much, seeing as it happened in the past when everyone thought she was dead; and it's not the first time a surprise son of John's popped into their lives. Paul Narita (Christopher Sean) is also a son John never knew he had until recently! No wonder Roman Brady (Josh Taylor) teased him recently about the ignorance of birth control!
A candlelight dinner for Jarlena. How romantic! #DAYS pic.twitter.com/eV6CGwQUOo

— Days of our Lives (@nbcdays) February 11, 2019
Is Diana also planning to tell Leo about his "birth father"? That could certainly give him pause when he realizes Brady Black (Eric Martsolf), the man he came onto and kissed on the mouth is his half-brother! It would also mean he's distantly related to his husband Sonny Kiriakis (Freddie Smith), although not close enough to invalidate the marriage or make it illegal. He could take the information and find some way to use it to his advantage, however.
John and Marlena have weathered many storms through the years and made it through intact; chances are that "Hurricane Diana" won't affect their relationship that much either, unless John is carrying a secret torch for her! Stay tuned to Days of Our Lives and check Days of Our Lives spoilers frequently to see all the latest developments in Salem!
Read more Celebrating the Soaps news, spoilers, and gossip on our Days Of Our Lives homepage