Days Of Our Lives Spoilers Tuesday, February 12: Jordan Silences Kate, Brady Jealous Of Chloe And Stefan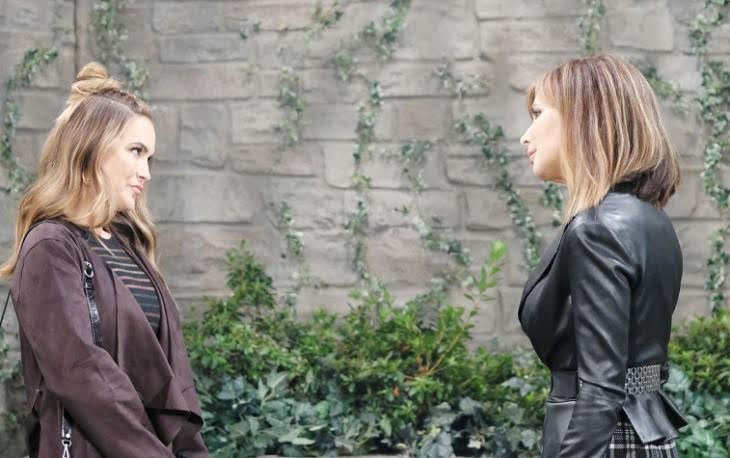 Days of Our Lives (DOOL) spoilers for Tuesday, February 12, 2019, reveals Jordan (Chrishell Stause) will drug Kate (Lauren Koslow) when she gets to close to the truth.
Days of Our Lives Spoilers – Jordan Silences Kate
Jordan will leave Kate for dead trying to keep her secret covered while she continues to try and frame Ben (Robert Scott Wilson). Kate will end up in the hospital fighting for her life, and no one is likely to suspect that Jordan is her assailant. Will Kate survive Jordan's attack and will Rafe (Galen Gering) have to find Jordan himself?
DOOL Spoilers – Ben Hides Incriminating Evidence From Hope And Eli
Days of Our Lives Ben will hide incriminating evidence from Hope (Kristian Alfonso) and Eli (Lamon Archey). Jordan is trying her best to put Ben away for life, and he has done nothing wrong. Jordan can't talk Ben into turning himself in but will certainly plant evidence against him.
Ben realizes if he doesn't stop Jordan, Ciara (Victoria Konefal) could die, and he can't allow that to happen. Hope would certainly happily put Ben away for kidnapping even though he hasn't done anything because she wants him away from Ciara. Can Ben save Ciara before it's too late?
A candlelight dinner for Jarlena. How romantic! #DAYS pic.twitter.com/eV6CGwQUOo

— Days of our Lives (@nbcdays) February 11, 2019
Days of Our Lives – Gabi And Stefan Clash Over Business Decisions
Days of Our Lives Gabi (Camila Banus) and Stefan (Tyler Christopher) will clash over business again. Stefan is determined to liquidate Gabi Chic and destroy it, and Gabi is just as determined to get her company back. Will Gabi get the company back from Dimera and be able to run it on her own?
Will someone else want to hire Gabi, and her brand and Stefan put a stop to that by not releasing his hold on Gabi Chic? Will Chloe (Nadia Bjorlin) talk to Stefan and get him to give Gabi her company back?
DOOL Spoilers – Brady Is Upset That Chloe Is Living With Stefan
Days of Our Lives Brady (Eric Martsolf) wanted Chloe and the kids to move into the Kiriakis mansion, but Victor (John Aniston) was very opposed to this idea. Chloe received another threat while talking to Stefan and he insisted she stay the night with him so he could protect her. Stefan has invited Chloe and her kids to move in with him, and she will take him up on his offer.
Brady will be furious that Chloe is living at that Dimera mansion with her kids. Stefan impressed Chloe by saving her life at Doug's Place and believes he can protect her. Will Chloe and Stefan have a whirlwind romance because she decides to disappear with the kids? Will Chloe survived the next attack from the cartel member who wants to avenge Mateo's (Andoni Gracia) death?
Read more Celebrating the Soaps news, spoilers, and gossip on our Days Of Our Lives homepage