Days Of Our Lives Spoilers: Johnny's Italian Proposal, Will Chanel Remarry Johnny After Allie's Exit?
Days of Our Lives spoilers reveal that Chanel Dupree (Raven Bowens) is single once again. With Chanel single and Allie Horton (Lindsay Arnold) off to New Zealand, could Johnny DiMera (Carson Boatman) make a bold move? Despite Johnny's romance with Wendy Shin (Victoria Grace), it's clear he still hasn't gotten over Chanel.
Days Of Our Lives Spoilers – Allie Horton's Exit
DOOL spoilers reveal that Allie confessed to sleeping with Alex Kiriakis (Robert Scott Wilson). Even though Allie and Chanel weren't together at the time, the baker still considers it a betrayal. Allie tried to apologize, but Chanel said that she couldn't get back together with her after the betrayal.
That led to Allie making a drastic decision. Allie decided to take her son to New Zealand with Will Horton (Chandler Massey) and Sonny Kiriakis (Zach Tinker). So, Chanel is not only single again, but Allie isn't in the picture anymore.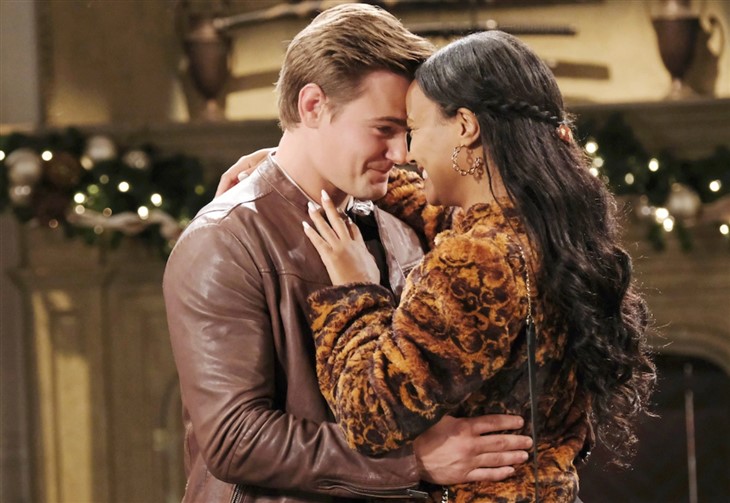 DOOL Spoilers – Wendy Shin's Romance
Even though Johnny and Chanel have shared some close moments lately, they have not reunited. In fact, when Wendy got angry at seeing her love interest with Chanel, Johnny didn't seem to care too much. Johnny just shrugged it off and continued on his way.
However, if the situation happened with Chanel, then Johnny would do everything to make things right. Then, there was Wendy deciding to give Johnny another chance. It seems Wendy is really smitten with Johnny. However, Johnny just doesn't as invested in the romance as Wendy. So, those are big clues that the soap will reunite Johnny with Chanel.
Days Of Our Lives Spoilers – Johnny DiMera's Unbroken Bond
Days of Our Lives spoilers reveal that Johnny and Chanel might be divorced, but it wasn't either of their faults. That was due to Johnny being possessed by the devil. So, their marriage never really had a chance. Even after the divorce, Johnny and Chanel still cared very much about each other.
DOOL Spoilers – Tripp Johnson's Roommate
It is confirmed that Wendy will ask Tripp Johnson (Lucas Adams) to move in with her. So, this will have Tripp and Wendy get even closer.
Johnny might realize that he still has deep feelings for Chanel. If Wendy moves on with Tripp, then it might open the door to Johnny and Chanel reuniting. If that happens, Johnny would probably do it in a very bold way. Since Chanel loves the memory of their spontaneous Italian wedding, could he propose and suggest a wedding do-over?
What do you think is going to happen with Johnny's love life? Will Wendy and Tripp get closer after they become roommates? Will Johnny try to rekindle his romance with Chanel? If so, could Johnny suggest a wedding do-over? If so, will Chanel say yes or take the time she needs after having her heart broken by Allie? Share your thoughts and remember to keep watching the soap on Peacock to find out what happens next.
Be sure to catch up on everything happening with DOOL right now. Come back often for Days of Our Lives spoilers, news, and updates.