The Young And The Restless Spoilers: Diane's Surprise, Jack's Shock-Turns Down Romantic Proposal?
The Young and The Restless spoilers and updates tease that Diane Jenkins' (Susan Walters) surprise will be Jack Abbott's (Peter Bergman) shock. She'll turn down a romantic marriage proposal at the Abbott cabin, but it'll be for safety reasons.
The Young And The Restless Spoilers – Threatening Text
Jack takes Diane to the Abbott cabin for safety, after Jeremy Stark (James Hyde) leaves a cryptic note on the doorstep of the Abbott mansion. They figure if they just hide out for a while they'll be safe, and maybe he'll give up his dangerous games. However, Jack has an ulterior motive-he also wants this to be a romantic getaway and he's already bought an engagement ring, being sure she'll say yes.
Unfortunately, Diane receives a threatening text on her phone during this cabin getaway, and Stark indicates he knows where they're hiding out. It seems like she can never get away from this monster and doesn't want to ruin Jack's happy mood, so she keeps the text a secret.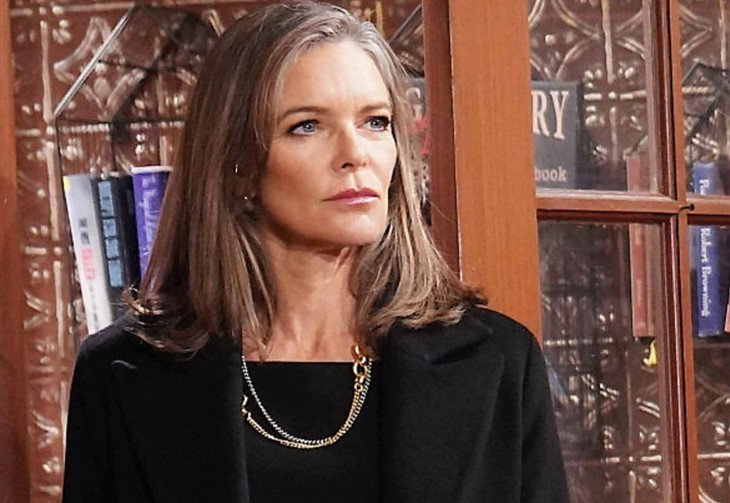 Y & R Spoilers – Jeremy Stark Could Just Be Gaslighting Her
Of course, Stark could just be gaslighting Diane, manipulating her by frightening her and doesn't really know where she's at, but she doesn't know that. She thinks it's best to just keep it to herself, and not make a big deal about it for the time being. She and Jack are having too much of a good time to be worried about whether Stark really knows where they're hiding out or not. What she should do is forward the text to Chance Chancellor (Conner Floyd) who specifically warned them after the first note not to handle threats from him themselves. But Diane will need to make a decision soon, when Jack brings out that engagement ring and gets down on one knee.
The Young And The Restless Spoilers – She Says No
Diane would under normal circumstances accept Jack's ring and his proposal in a heartbeat, but because she feels she's brought danger into his life she says no. She can't afford for Stark to make good on his threats and put the family in danger, especially not her grandson Harrison Locke (Kellen Enriquez. She'll have to take care to make sure Jack understands she's not rejecting him, just the commitment for the time being although she won't be sure how to explain why.
Still, his reaction may be of rejection and hurt, because he'll be totally blindsided by her not saying yes. The rest of the family will be stunned as well, especially Ashley Abbott (Eileen Davidson) and Phyllis Summers (Michelle Stafford)-Jack may, however drag the truth out of Diane eventually.
Be sure to catch up on everything happening with Y & R right now. Come back here often for The Young and The Restless spoilers, news, and updates.