Days Of Our Lives Spoilers: Megan Hathaway Has The Orchid, Needs It To Save Bo Brady
Days of Our Lives (DOOL) spoilers reveal that Megan Hathaway (Miranda Wilson) is set to return to Salem. For those fans that recall, she was highlighted in the soap's winter preview at the end of the video where Bo Brady (Peter Reckell) comes back to life in a lab. With the question still lingering on who stole the orchid that was supposed to save Kayla Brady (Mary Beth Evans), Marlena Evans (Diedre Hall), and Kate Roberts (Lauren Koslow), could Hathaway be the person who snatched the flower to save Bo?
Days Of Our Lives Spoilers – Megan Hathaway's Plan To Bring Bo Brady Back
DOOL spoilers note hint that Megan will officially return to the daytime drama on Friday, February 24th. Hathaway re-appeared on the Days scene (very much alive) last summer during Peacock's Beyond Salem series. At that point in time, she found a way to bring Bo back to life, through three prisms.
Will the orchid also play a role in saving Mr. Brady? Was Hathaway the one to steal the flower? Could this all be revealed in the weeks ahead? Bo and Hope Brady (Kristian Alfonso) are set to make a major Days comeback and soon, so does Megan hold the key to Bo's return?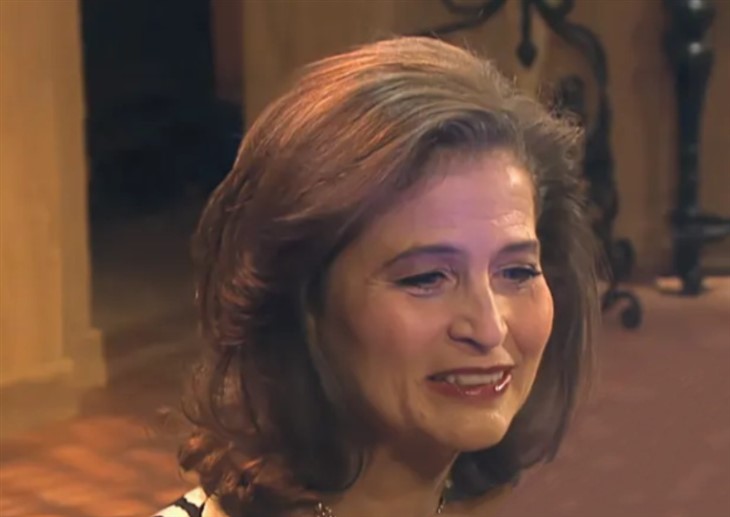 DOOL Spoilers – The Truth Will Be Revealed Very Soon
DOOL spoilers imply that Orpheus (George DelHoyo) will soon provide some insight that ties into the orchid storyline, and it is sure to shock fans. It wouldn't be far-fetched to believe that he and Megan teamed up to steal the flower, as it would be a win-win situation for both parties.
Orpheus gets his revenge on Roman Brady (Josh Taylor), Steve Johnson (Stephen Nichols), and John Black (Drake Hogestyn) by killing their wives, and Megan gets Bo back for good.
There's also a chance Megan stole the orchid on her own accord. Why would she need to work with Orpheus if she can do it all on her own? The orchid clearly has healing powers, and it could be the final element needed to bring Bo back to the land of the living.
Is Megan the one who stole the orchid? Why is she back in Salem and what kind of drama will she bring with her? Leave your comments below! DOOL spoilers suggest plenty of plot twists with this storyline, so fans need to stay tuned to their favorite Peacock soap opera.
Come back often for Days of Our Lives spoilers, news, and updates.