Days Of Our Lives Spoilers: Orpheus Offers Shocking Information About The Orchid Stealer
Days of Our Lives (DOOL) spoilers note that things will heat up at Statesville when Steve Johnson (Stephen Nichols) and John Black (Drake Hogestyn) try to move forward with their plan to kill Orpheus (George DelHoyo). John and Steve will be focused on vengeance, as the villain does all he can to delay the inevitable. While he won't try and outfight them, Orpheus does imply that he has some information on the person who stole the all-healing orchid from Kristen DiMera (Stacy Haiduk).
Days Of Our Lives Spoilers – Roman Brady Essentially Saves Orpheus's Life
DOOL spoilers note that Orpheus will try and stop the men from ending his life by stating he has some information about the flower-stealer, who essentially was the one who killed Marlena Evans (Diedre Hall), Kayla Johnson (Mary Beth Evans), and Kate Roberts (Lauren Koslow). After all, had the ladies received the antidote from the orchid, they'd still be alive, right? According to Soap Opera Digest (SOD), Orpheus will try to reason with the men.
Why kill him if he can provide information that will lead them to the real killer? DOOL spoilers indicate that while Steve will believe the villain is lying, John will be open to listening to him. However, the clock is ticking, and as Orpheus only gives the men bits and pieces of information, Steve will believe that anyone from Statesville could interrupt at any time and move in for the proverbial "kill".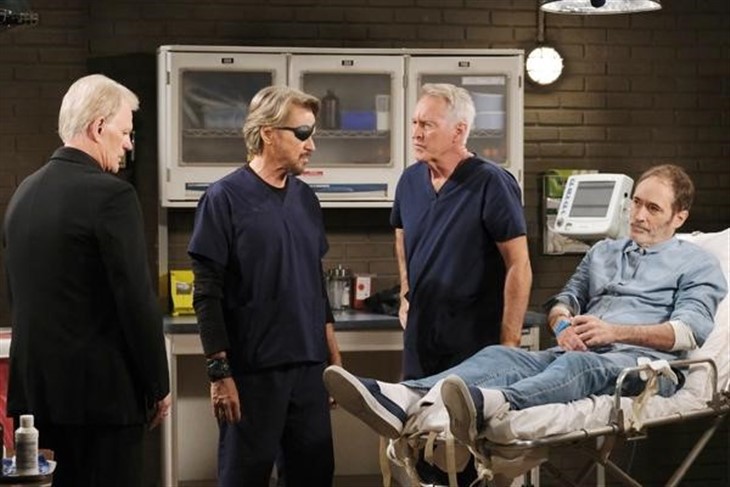 In an interesting twist of events, Days teasers state that Roman Brady (Josh Taylor) will come in right before Steve does the deed, relaying Kate's message from the great beyond.
For those fans who haven't tuned into the February 17th episode, a ghostly Ms. Roberts visits her hubby, pleading with him to not go through with killing Orpheus. The consequences of these actions could lead to spending eternity with the Devil, and nobody wants that!
DOOL Spoilers – Orpheus Offers A Kind Parting Gift
Days spoilers reveal that despite all that's gone down, Orpheus will leave the men with a parting gift. While talking with SOD, actor George DelHoyo notes that his character will selflessly give Roman, John, and Steve a bit of "swag" before they go.
Whatever parting gift he offers will be a clue of sorts, offering insight into the orchid-stealer.
Orpheus didn't need to do this; he was saved by Roman when all was said and done. Still, there's nothing the villain loves more than playing games and throwing out riddles, so it'll be interesting to see what he hands over to the grieving husbands and if they'll be able to use this information to figure out where the orchid is.
Who could have stolen that precious orchid, and how does Orpheus know who that person is? Share your thoughts on this storyline, below! Don't forget to tune into Days on Peacock daily, and check CTS regularly for DOOL spoilers, updates, and news.