Days Of Our Lives Spoilers: Rafe Has Bad News For Jada – Will Colin Take Talia Out With Him?
Days of Our Lives spoilers and updates tease that Rafe Hernandez (Galen Gering) will have bad news for Jada Hunter (Elia Cantu). Will Colin Bedford (Jasper Newman) take her sister Talia Hunter (Aketra Sevillian) out with him as he pulls her off the roof?
Days Of Our Lives Spoilers – Colin Bedford Takes Paulina Price To The Roof
After knocking Abe Carver (James Reynolds) out at Sweet Bits, and forcing Paulina Price (Jackeé Harry) to the roof at gunpoint, Colin answers Paulina's phone to Chanel Dupree (Raven Bowens).
Talia had just come clean to Chanel about Colin forcing her into a romantic relationship, with the intention of breaking her heart. As Chanel is lured to the rooftop by Colin, Talia returns to their room to find his old photo album.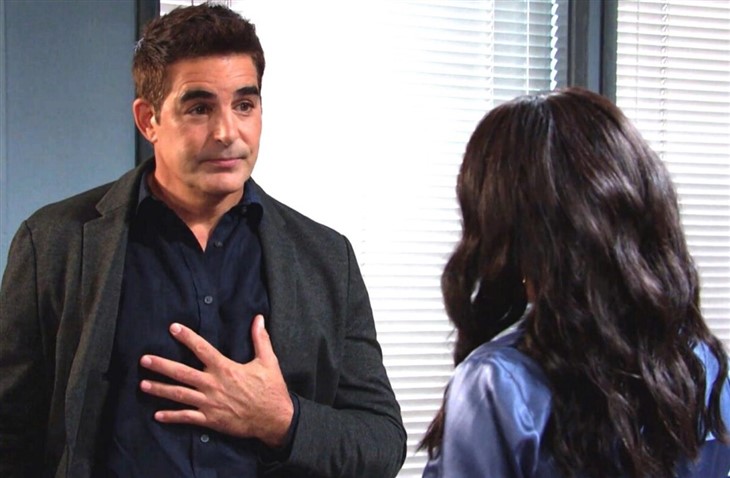 As Chanel watches in horror, knowing Colin intends to his own mother's death with Paulina's, Talia realizes the same thing.
Meanwhile, Rafe has heard from Abe and found him in rough shape at Sweet Bits while Jada questions Sloan Peterson (Jessica Serfaty) about her role in her brother's schemes.
DOOL Spoilers – Colin Bedford Makes Sure Paulina Price Suffers
Colin makes sure Paulina suffers, and once he's successfully lured Chanel, he's even more pleased-now he can push Paulina off the roof and maybe Chanel at the same time.
He continues to point his gun at them and drive them closer and closer to the precipice of the high roof, which appears to be of the Salem Inn. Rafe, who's called 911 to the scene for Abe, calls into the Salem PD for backup on the Bedford hostage situation and says he's armed and dangerous.
Colin has a psychotically good time watching Paulina and Chanel fear for each others' lives, alternating with their own. Meanwhile, back in Colin's vacated room Talia figures out his game and knows what he's trying to do – and finds her way to the top of the roof.
Days Of Our Lives Spoilers – Jada Hunter Arrives, Rafe Hernandez Delivers Bad News
Responding to Rafe's call for backup, Jada arrives to the roof and gets ready to shoot Colin, who's first holding Chanel-Paulina apparently knocked out as she's not seen.
He's got a gun to Chanel's head, and then suddenly Talia appears, rushing past her sister and wrestling Chanel out of danger! Chanel and Jada watch in horror as Talia wrestles with Colin, pulling both of them off the roof to the ground below!
Paulina will be okay and will rush to Abe's side in the hospital but Rafe will have bad news for Jada. Will Colin have taken Talia along in his suicide, does she live, does she die, or will she be in a coma?
Be sure to catch up on everything happening with DOOL right now. Come back here often for Days Of Our Lives spoilers, news, and updates.