Days Of Our Lives Spoilers: Sloan Petersen Steals Nicole Walker's Baby In An Act Of Desperation
Days of Our Lives (DOOL) spoilers hint that fans should expect the unexpected in the land of Salem. Sloan Petersen (Jessica Serfaty) is desperate to hold onto Eric Brady (Greg Vaughan).
So much so, that she's gone out of her way to hide the fact that he is the father of Nicole Walker's (Arianne Zucker) baby.
She recently got pregnant, but then miscarried. She may not be able to get pregnant again; however, she has brought up the idea of adoption, and Eric has agreed. She may feel as if this adoption is her last effort to build a family with Mr. Brady and keep him, for good.
So, will she cross yet another line to ensure they bring a baby home?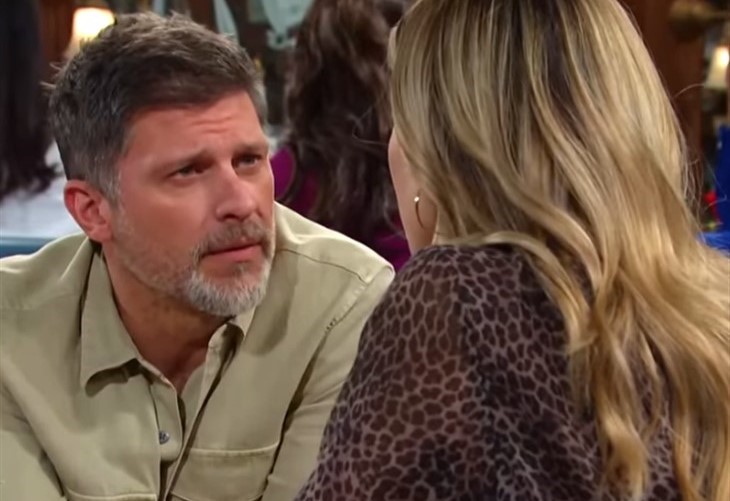 Days Of Our Lives Spoilers – The Adoption Plan Goes Awry
Days spoilers tease that a leaked script from actress Jessica Serfaty reveals dialogue where Sloan asks Eric how "the baby" is. It looks as if this "scene" will unravel sometime in October, but it's hard to say.
What if something goes wrong with the baby Sloan and Eric are about to adopt? Nicole recently revealed that her due date is January, but she – and possibly the mom who is giving her baby up for adoption – could both go into labor, early.
With that being said, both babies would need to be in an incubator if this happens weeks upon weeks prematurely, but then again, this is the land of soaps where even the most impossible storyline can come to fruition.
MUST READ – DOOL Spoilers: More Shockers About Victor Kiriakis
What if Sloan's asking how their "adoptive" baby is doing in that leaked script? What if the little one suffered a complication during birth and the outcome is dire?
Would Sloan do the unthinkable and swap Nicole's baby for the adoptive newborn to ensure she and Eric bring home a "healthy" little one home? What if by doing so, Nicole believes she's had yet another stillborn?
Xander Kiriakis (Paul Telfer) did just this some years ago when it came to Sarah Horton's (Linsey Godfrey) first child and little Rachel Black (Finley Rose Slater).
Days Spoilers – What Goes Around, Comes Around For Nicole Walker
There's nothing soaps love to do more than recycle old storylines and make them new again.
If Nicole suffers the old "baby switch" storyline, would it be karma coming back to bite her in the butt?
After all, she did the exact same thing to Sami Brady (Alison Sweeney) in 2009 with Sydney DiMera (Berlyn and Brooklyn Baca). Will Sloan steal Nicole's baby out of desperation? Share your thoughts below.
Watch the popular Peacock soap daily to see what happens next and visit CTS regularly for the best Days of Our Lives updates, spoilers, and news.