Days Of Our Lives Spoilers: Stefan And Gabi Try Cozying Up To Megan, She's Not Interested
Days of Our Lives spoilers and updates tease Stefan DiMera (Brandon Barash) and Gabi Hernandez, (Camila Banus) newly engaged, try cozying up to Megan Hathaway (Miranda Wilson). But Megan, although she might accept her baby brother Stefan, may not have patience for the would-be DiMera!
Days Of Our Lives Spoilers – She's The Grand Dame Of The Manor
Megan proclaimed she's the grand dame of the manor and has taken her rightful place in the mirrors and the DiMera mansion. Even Kristen DiMera's (Stacy Haiduk) has been taken down several considerable notches, but she'll just have to deal. Megan is the oldest DiMera; she's older than even Tony DiMera (Thaao Penghlis) though she doesn't consider him a real DiMera but accepts him because her father did.
For that matter, Kristen isn't a real DiMera either but since Megan herself was adopted she'll allow it-she's the closest thing to a sister she's got. Sadly, all of Stefano DiMera's (Joseph Mascolo) flesh and blood daughters are now gone except Megan.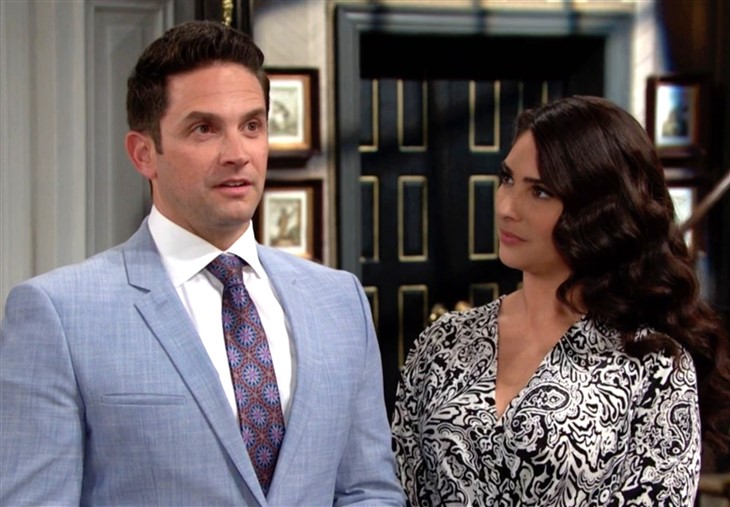 DOOL Spoilers – On Her Last Nerve
Megan considers the flighty and conniving Gabi and decides she's gotten on her last nerve-she dresses in a manner unbecoming to a DiMera wife and desperately needs lessons. But then Megan has never cared for any women she had known who had married into the DiMera family-most she considered gold diggers and Gabi at the top of that heap.
Megan is territorial, to be sure – even if the current DiMera mansion wasn't their property at the time prior to her electrocution; her father's portrait is there and that's what counts. Stefan, she'll accept as her baby brother and although she doesn't like Anna DiMera (Leann Hunley) at least she dresses okay, although she, too is rather overbearing. Gabi is like an annoying mosquito to Megan, one she's about ready to swat!
Days Of Our Lives Spoilers – Stefan Di Mera Doesn't Realize Her Agenda
Megan can't believe a proper DiMera like Stefan doesn't realize that Gabi has an agenda-of course Megan wouldn't know Gabi once owned her own design company and storefront. She only knows her recent history and her interference in Dr. Wilhelm Rolf's (Richard Wharton) work with raising Stefan back to life. Kristen DiMera (Stacy Haiduk) had told Megan that whole story and how her plan for Stefan interfered with Kristen's plan for Brady Black (Eric Martsolf) and their daughter.
Megan plans to draft Kristen to help her and together they will use the fine art of insinuation to drive Stefan away from Gabi. Gabi is way too controlling and Megan considers her an interloper and a gold digger, but little does she realize she doesn't have to mother Stefan-his mother's on the way!
Be sure to catch up on everything happening with DOOL right now. Come back here often for Days Of Our Lives spoilers, news, and updates.