Days Of Our Lives Spoilers Tuesday, May 23: Li Served, Wendy's Honesty, Rafe's Talia Bombshell
Days of Our Lives spoilers for Tuesday, May 23 reveal that Li Shin (Remington Hoffman) is served with divorce papers. Wendy Shin (Victoria Grace) gets honest with Johnny DiMera (Carson Boatman).
Meanwhile, Rafe Hernandez (Galen Gering) delivers heartbreaking news to Jada Hunter (Elia Cantu). Plus, Paulina Price (Jackee Harry) races to Abe Carver's (James Reynolds) hospital bed.
Days Of Our Lives Spoilers – Li Shin Gets Served
DOOL spoilers for Tuesday, May 23 reveal that Li gets served. It isn't a process server that gives Li divorce papers, though. Gabi Hernandez (Camila Banus) delivers the divorce papers to Li.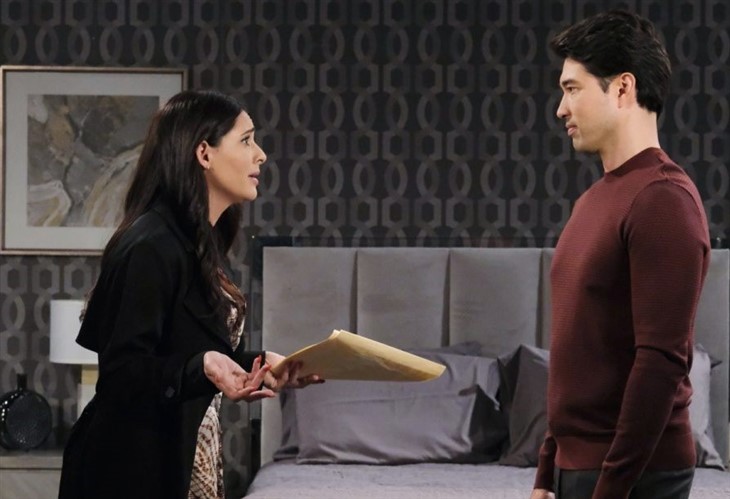 The paperwork is all signed and ready to be filed with the court. Now, Li might take this opportunity to tell Gabi he's sorry about what he did to Stefan DiMera (Brandon Barash).
While Gabi might accept Li's apology, there is no going back. Gabi might also inform Li that Stefan proposed, and she accepted.
DOOL Spoilers – Wendy Shin's Honesty
On Tuesday, May 23, fans can expect Wendy to get honest with Johnny. Even though Wendy and Johnny tried a romance, it just didn't work.
Now Wendy is with Tripp Johnson (Lucas Adams). Johnny might explain to Wendy that he didn't really propose to Chanel Dupree (Raven Bowens).
While Wendy understands, she also knows that it won't stop with the tainted breakfast biscuits. Wendy knows that on some level, Johnny and Chanel have unresolved feelings.
Wendy is tired of always worrying about Johnny going back to Chanel. Wendy also feels that every attempt at romance with Johnny backfires.
Wendy might want something easy and simple rather than exciting. Wendy will certainly get that with Tripp, so they are probably a better match anyway.
Days Of Our Lives Spoilers – Rafe Hernandez's Heartbreaking Bombshell
Days of Our Lives spoilers for Tuesday, May 23 reveal that Rafe will deliver heartbreaking news to Jada. This must be about what happened to Talia Hunter (Aketra Sevillian) after Colin Bedford's (Jasper Newman) fall.
DOOL Spoilers – Tuesday, May 23
On Tuesday, May 23, fans can also expect Chanel to deal with conflicting emotions. Chanel is beside herself after Talia intervened to save her from Colin.
However, Talia didn't escape unscathed. It isn't known if Talia is just injured or died. In any case, Chanel will be divided about how to process everything.
Fans can also expect Paulina to rush to Abe's side. Of course, Abe will be grateful that Paulina is alive. However, Paulina will have some bombshells to share with her husband.
Which storyline are you looking forward to seeing the most on Tuesday, May 23? What are your predictions for Li, Gabi, Stefan, Wendy, Johnny and Tripp?
What does the future hold for Rafe, Jada, Talia, Chanel, Colin and the rest of the Salem residents? Share your thoughts in the comment section below. Remember to keep watching the soap on Peacock to find out what happens next.
Be sure to catch up on everything happening with DOOL right now. Come back often for Days of Our Lives spoilers, news, and updates.