Days Of Our Lives Spoilers: Theresa Donovan Returns To Salem
Days of Our Lives spoilers indicate that Theresa Donovan (Jen Lilley) could be on her way back to Salem, perhaps not for an extended stay but is she just what Brady Black (Eric Martsolf) needs? Reports say Lilley has posted an offscreen reunion, does that mean an onscreen reunion is happening as well?
Days Of Our Lives Spoilers – Theresa Donovan Seen With Former Partner In Crime
Days Of Our Lives spoilers reveal Anne Milbauer (Meredith Scott Lynn) was Theresa's partner in crime once upon a time. Lilley's photo of her and Meredith having dinner has certainly sparked rumors of Theresa's return. Of course, Meredith hasn't been seen on for some time on screen either so it could just be a couple of friends having dinner and nothing more.
Theresa's brother, Andrew Donovan (Colton Little), has been cast and is sticking around for a little while at least. Currently, both Andrew and Theresa are in California since Andrew is visiting Paul Narita (Christopher Sean). The two siblings could casually bump into each other at a restaurant while Paul and Andrew are on a date.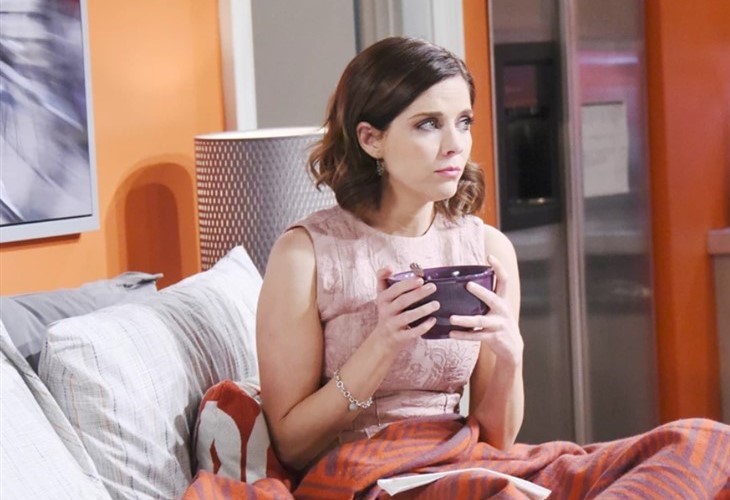 DOOL Spoilers – Rachel Black Sometimes Visits Theresa Donovan
Brady occasionally lets Rachel travel to California and if he ever needed a break it is now. Rachel is constantly acting out and Brady doesn't seem to know how to handle her. Will Brady send Rachel home with Theresa for while just to get her away from all of the drama for a while? Perhaps Brady and Chloe Lane (Nadia Bjorlin) need some time to reconnect.
With Brady's lack of parenting skills after all of this time, maybe Theresa can teach Rachel not to be such a little monster. After all, Rachel is already so much like her mother it isn't even funny. Rachel could have been kidnapped and killed after calling an Uber to take her to Stateville. Rachel needs a bit more than a time-out to get the point across that she is not an adult.
Days Of Our Lives Spoilers – Could Theresa Bring Tate Back To Visit?
Theresa could bring Tate Black (last played by Colin and Kyle Schroeder), of course, Tate would likely be a young teenager by now. Perhaps Tate has decided that he wants to come live with his dad after all these years. Some Days actors are beginning to follow Lilley on social media leading fuel to the rumors that she is returning.
Jen has other obligations that would prevent her from returning full-time. However, a short visit might not be out of the question. Some fans were very upset when Jen left that show and would love to see Theresa and Brady together again. Perhaps Chloe Lane (Nadia Bjorlin) will give up on Brady and leave him available for a reunion with Theresa.
Be sure to catch up on everything happening with DOOL right now. Come back here often for Days Of Our Lives spoilers, news, and updates.