Days of Our Lives Spoilers Thursday, July 20: Melinda's Discovery, Eric's Big Step, Talia vs Johnny
Days of Our Lives spoilers for Thursday, July 20 reveal that Eric Brady (Greg Vaughan) and Sloan Petersen (Jessica Serfaty) take a big step. DA Melinda Trask (Tina Huang) and Li Shin (Remington Hoffman) find common ground.
Talia Hunter (Aketra Sevillian) faces Johnny DiMera (Carson Boatman). Plus, Rafe Hernandez (Galen Gering) learns about Johnny losing to Tripp Johnson (Lucas Adams).
Eric Brady's Big Step
DOOL spoilers for Thursday, July 20 reveal that Eric and Sloan will take a big step. Ever since Nicole Walker's (Arianne Zucker) pregnancy began, Sloan has been trying to hold onto Eric.
Sloan knows that there is undeniable history and chemistry between "Ericole." Despite not even liking children, Sloan began pushing Eric to start a family with her.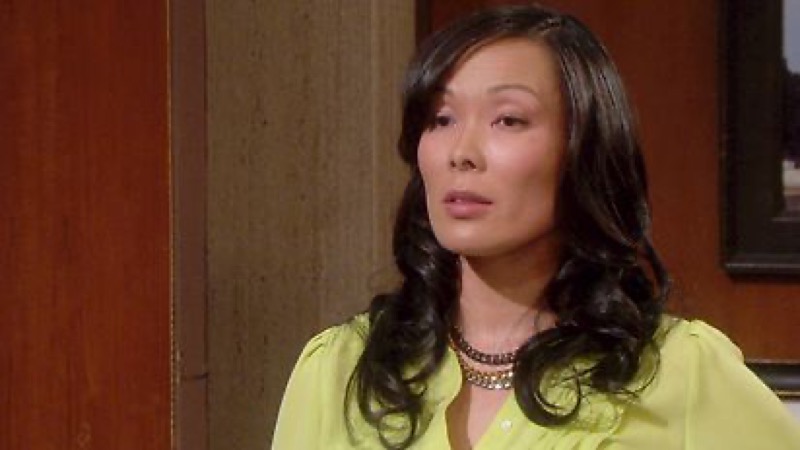 Eventually, Eric gave in and now Sloan is taking a pregnancy test. We know from the 2-week ahead spoilers that the pregnancy test is positive next week. However, is it a legit positive pregnancy test or does Sloan somehow tamper with it?
DOOL Spoilers: Talia Hunter's Interaction
On Thursday, July 20, fans can expect to see Talia again. Talia is trying to move on after Belle Brady (Martha Madison) helped her avoid prison. Talia has tried to smooth things over with Chanel Dupree (Raven Bowens).
Next, Talia will cross paths with Johnny. Chanel and Johnny have history and still care about each other. So, Johnny might demand some answers from Talia.
If Talia tells Johnny about Colin Bedford's (Jasper Newman) emotional abuse, perhaps his anger will turn into understanding or even empathy. Seriously, Johnny can't really judge since he was possessed by the devil at one time.
Melinda Trask's Common Ground
Days of Our Lives spoilers for Thursday, July 20 reveal that Melinda and Li will be surprised by their common ground. Even though the characters seem completely different, they will find a few things in common.
One might be coming from super-traditional Asian families. Everyone knows how disappointed Li's father is in him.
Melinda also comes from parents who were very traditional, set in their ways and strict. That came out when Melinda confessed she was Haley Chen's (Thia Megia) mother, not her sister.
Days of Our Lives Spoilers: Thursday, July 20
On Thursday, July 20, fans can also expect Wendy Shin (Victoria Grace) to be surprised when Tripp shows up. Plus, Johnny will inform Rafe about Wendy's choice.
Which storyline are you looking forward to seeing the most on Thursday, July 20? Share your thoughts in the comment section below. Remember to keep watching the soap on Peacock to find out what happens next.
Be sure to catch up on everything happening with DOOL right now. Come back often for Days of Our Lives spoilers, news, and updates.