Days Of Our Lives Spoilers Tuesday, October 3: Surprise Visitors, Grave Predicaments, Marital Messes
Days of Our Lives spoilers for Tuesday, October 3, 2023, reveal that Rafe Hernandez (Galen Gering) gets an unexpected visitor. Ava Vitali (Tamara Braun) and Harris Michaels (Steve Burton) are in a dangerous situation.
Days Of Our Lives Spoilers Highlights
Meanwhile, Belle Brady (Martha Madison) confronts Shawn Brady (Brandon Beemer) over Jada Hunter's (Elia Cantu) accidental secret exposure. Keep reading to find out what is coming up in the Peacock soap opera.
DOOL Spoilers – Rafe Hernandez's Unexpected Visitor
DOOL spoilers for Tuesday, October 3 reveal that Rafe will receive an unexpected visitor. This is most likely connected to Susan Banks' (Stacy Haiduk) storyline. Harris and Ava are in London searching for clues that Susan is alive.
Now, later in the week, Rafe and Tripp Johnson (Lucas Adams) find themselves in a life-or-death situation. So, could Rafe's unexpected visitor be Tripp?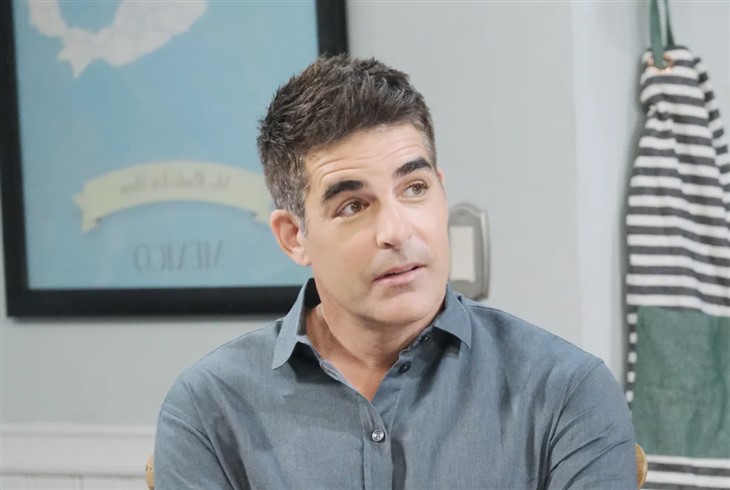 Days Of Our Lives Spoilers – Ava Vitali's Grave Danger
As fans know, Ava and Harris went on the run after shooting EJ DiMera's (Dan Feuerriegel) hitwoman. Eventually, the clues led them to Edmund P. Crumb's (Adam Caine) door. That's where things took a bizarre turn.
In Tuesday's episode, fans can expect Ava and Harris to be in a dangerous predicament. This comes after Edmund drugged Ava and Harris. Then, Susan walked through the door. So, fans are anxious to find out what the heck Susan is up to.
DOOL Spoilers – Jada Hunter's Mistake
Days of Our Lives spoilers for Tuesday, October 3 reveal that Shawn has been feeling guilty about cheating on Belle.
Shawn should have just blurted out the truth right away. Instead, Shawn has been keeping a secret from Belle. After Jada confronted Shawn, he asked her not to say anything about his cheating until he could tell Belle the truth.
MUST READ – Days Of Our Lives Spoilers: Tripp And Rafe In Danger As Edmund Pulls A Gun!
Even though Jada agreed, the weekly preview clip teases Belle finds out anyway. Belle comes to the police station to see Shawn.
At the time, Jada is telling Shawn she won't say anything about him sleeping with Talia Hunter (Aketra Sevillian). So, Belle heard the truth and Shawn is going to have to do a whole lot of explaining.
Days Of Our Lives Spoilers – Tuesday, October 3
On Tuesday, October 3, fans might also see what Vivian Alamain (Louise Sorel) does next. Vivian still has some aces up her sleeve. However, expect good to eventually win over Vivian at some point.
Which storyline are you looking forward to seeing the most on Tuesday, October 3? What are your predictions for Ava, Harris, Susan, EJ, Rafe and Tripp?
READ THIS: Find out what happens next on Days Of Our Lives.
What does the future hold for Belle, Shawn, Talia, Jada and the other characters? Share your thoughts in the comment section below. Remember to keep watching the soap on Peacock to find out what happens next.
Be sure to catch up on everything happening with DOOL right now. Come back often for Days of Our Lives spoilers, news, and updates.