Days Of Our Lives Spoilers Wednesday, August 2: Wendy Wary, Sloan's Bomb, Talia's Face-Off
Days of Our Lives spoilers for Wednesday, August 2 reveal that Wendy Shin (Victoria Grace) worries about Li Shin's (Remington Hoffman) dynamic with Melinda Trask (Tina Huang).
Sloan Petersen (Jessica Serfaty) shares a secret about Nicole Walker's (Arianne Zucker) pregnancy. Plus, Talia Hunter (Aketra Sevillian) and Chanel Dupree (Raven Bowens) face off. Fans will also see what happens once Abe Carver (James Reynolds) goes home.
Days Of Our Lives Spoilers – Wendy Shin Wary
DOOL spoilers for Wednesday, August 2 reveal that Wendy will continue to worry about her brother. Li and Melinda went on a blind date, which didn't go very well.
Actually, Li and Melinda were pleasantly surprised to find they share common ground. They also seem to really like each other once Li's crime and Melinda's job was put to the side.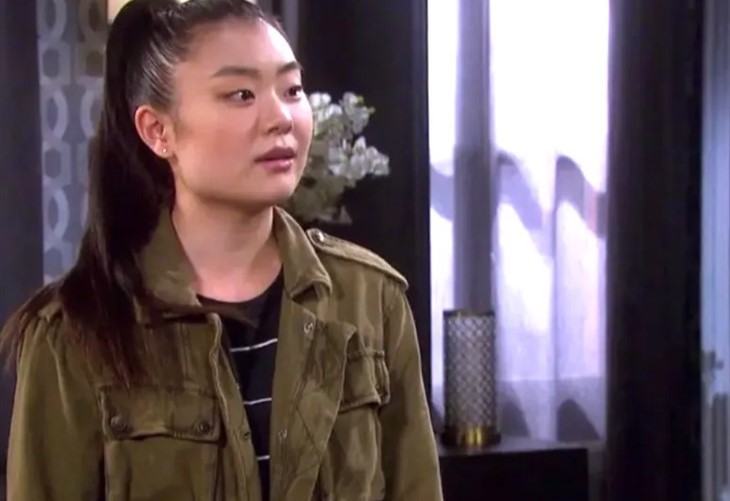 However, Li stormed out after discovering Melinda was recording their date. Since then, Li and Melinda continue with their interesting new dynamic. However, Wendy will be concerned about Li spending more time with Melinda.
DOOL Spoilers – Sloan Petersen's Bomb
On Wednesday, August 2, Sloan will drop a bombshell. Now, this has nothing to do with Sloan's pregnancy. What Sloan shares is a secret that belongs to another pregnant woman in Salem… Nicole. Now, what will Sloan divulge about Nicole's pregnancy?
When will Sloan's secrets and desperate schemes come to light? Is there any possibility of redemption after everything Sloan has done to Nicole and Eric Brady (Greg Vaughan) as well as EJ DiMera (Dan Feuerriegel)?
Days Of Our Lives Spoilers – Abe Carver's Memory
Days of Our Lives spoilers for Wednesday, August 2 reveal that Paulina Price (Jackee Harry) had hope that Abe coming home would trigger his memories. Even Chanel told Abe that he would get his memories back soon. However, it hasn't happened yet. So, what is Paulina going to do to help her husband remember? Will Abe ever get his memories back?
DOOL Spoilers – Wednesday, August 2
On Wednesday, August 2, fans can also expect Chanel and Talia to have a face-off. Despite Talia being emotionally abused and manipulated by Colin Bedford (Jasper Newman), the doctor was still in control of her own actions. Talia might have escaped prison, but she still needs to be held accountable.
If Abe didn't continue to have memory problems, then Chanel might have an easier time with Talia. However, Chanel just had to assure Abe about his memories. Plus, Paulina is distraught, so Chanel will see Talia at the wrong time. Chanel's anger just might bubble up!
Which storyline are you looking forward to seeing the most on Wednesday, August 2? Share your thoughts in the comment section below. Remember to keep watching the soap on Peacock to find out what happens next.
Be sure to catch up on everything happening with DOOL right now. Come back often for Days of Our Lives spoilers, news, and updates.