Days Of Our Lives Spoilers Wednesday, May 10: Colin's Police Problem, Anna & Nicole Strategize
Days of Our Lives spoilers for Wednesday, May 10 reveal that Jada Hunter (Elia Cantu) grills Colin (Jasper Newman). Meanwhile, Talia Hunter (Aketra Sevillian) tries to convince Chanel Dupree (Raven Bowen) she's interested in her. Plus, Nicole Walker (Arianne Zucker) tells Anna DiMera (Leann Hunley) about her newest secret. Sloan Petersen (Jessica Michele Serfaty) will also defend herself against Paulina Price's (Jackee Harry) latest allegation.
Days Of Our Lives Spoilers – Jada Hunter's Interrogation
DOOL spoilers for Wednesday, May 10 reveal that Jada got information about Colin from Xander Cook (Paul Telfer) and Chloe Lane (Nadia Bjorlin). Despite Colin covering when he was grilled by Xander, the vengeful new villain will face a complication.
Talia's detective sister starts questioning Colin. So, this will put a snag in Colin's big scheme to make Chanel and Paulina pay.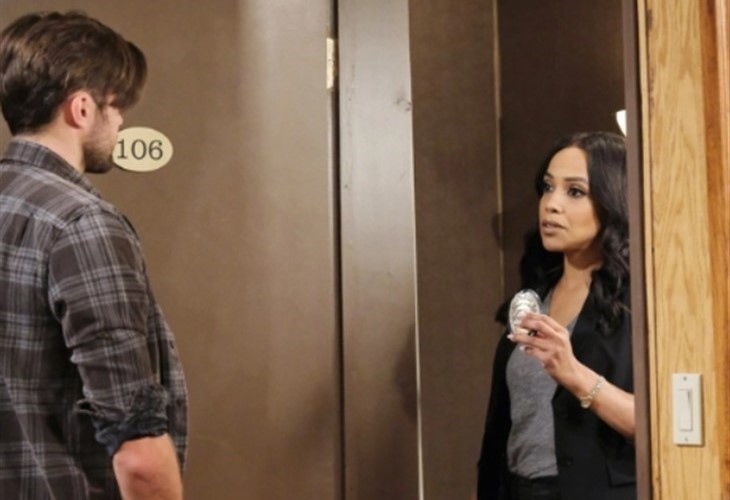 DOOL Spoilers – Talia Hunter's Scheme
On Wednesday, May 10, fans can also expect Talia to continue trying to work her seductive magic on Chanel.
Even though Chanel thinks she is ready to move on from Allie Horton (last played by Lindsay Arnold), there might be a nagging feeling that something is wrong.
Chanel could try to ask questions, but Talia can't exactly be completely honest. So, when Talia can't keep all of her secrets and lies straight, Chanel could see a big red flag. Fans can expect Talia to insist to Chanel that she really is interested in her.
Days Of Our Lives Spoilers – Nicole Walker's New Secret
Days of Our Lives spoilers for Wednesday, May 10 reveal that Nicole will open up to Anna again. Nicole will update Anna on what happened at the hospital.
Anna will also learn that Nicole is pregnant, but EJ DiMera (Dan Feuerriegel) thinks it's just early menopause.
So, the two will probably strategize to keep EJ in the dark until a paternity test can be done. According to what Kayla Johnson (Mary Beth Evans) told Nicole, it will be at least a few weeks before one can be done.
DOOL Spoilers – Wednesday, May 10
On Wednesday, May 10, fans can expect Paulina to fire off a new allegation at Sloan. This will force Sloan to defend herself once again.
With Talia grilling Colin and Talia's guilt eating at her, this scheme is a big flop. So, what does that mean for Colin, Sloan, Chanel, Paulina and Talia?
Which storyline are you looking forward to seeing the most on Wednesday, May 10? What are your predictions for Colin, Talia, Chanel, Sloan, Paulina and Abe Carver (James Reynolds)?
What does the future hold for EJ, Nicole, Anna, Eric Brady (Greg Vaughan) and the rest of the Salemites? Share your thoughts in the comment section below. Remember to keep watching the soap on Peacock to find out what happens next.
Be sure to catch up on everything happening with DOOL right now. Come back often for Days of Our Lives spoilers, news, and updates.