Days Of Our Lives Spoilers Week Of January 23: Stefan Kidnapped, Nicole Drugged, Marlena's Heavenly Reunion
Days of Our Lives spoilers for the week of January 23 reveal that Gabi Hernandez (Camila Banus) hides an unconscious Stefan DiMera (Brandon Barash). Nicole Walker (Arianne Zucker) is drugged. Meanwhile, Marlena Evans (Deidre Hall) has a heavenly reunion. Keep reading to find out what is coming up on the Peacock soap.
Days Of Our Lives Spoilers – Monday, January 23: Marlena Evans' Death
DOOL spoilers for Monday, January 23 reveal that Sarah Horton (Linsey Godfrey) tries to revive Marlena as John Black (Drake Hogestyn) watches. Meanwhile, Will Horton (Chandler Massey), Eric Brady (Greg Vaughan) and Belle Brady (Martha Madison) pray for a miracle.
Fans can also expect Allie Horton (Lindsay Arnold) to demand answers from Johnny DiMera (Carson Boatman) and Chanel Dupree (Raven Bowens). Plus, Wendy Shin (Victoria Grace) will offer comfort to an anguished Tripp Johnson (Lucas Adams).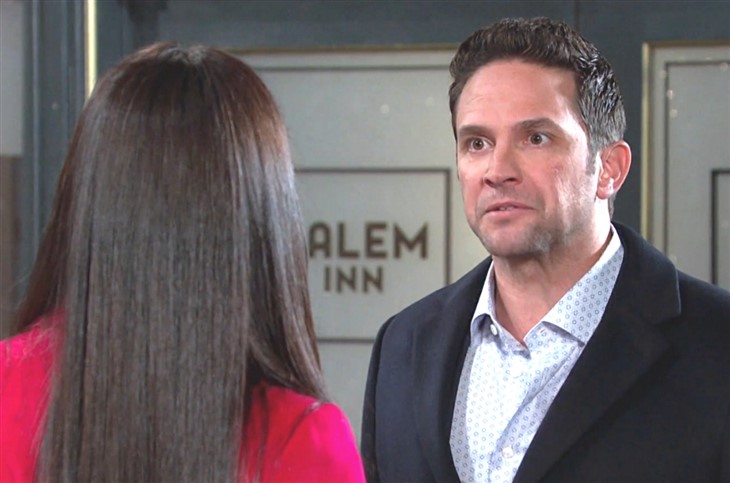 DOOL Spoilers – Tuesday, January 24
On Tuesday, January 24, Marlena will find herself in a heavenly setting. It is also confirmed that Marlena will reunite with a familiar face. That familiar face just happens to be Susan Banks (Stacy Haiduk).
Elsewhere, Eric will seek comfort in Sloan Petersen's (Jessica Serfaty). Viewers can also expect Stephanie Johnson (Abigail Klein) to get a visit from Paulina Price Carver (Jackee Harry). Paulina will ask Stephanie for her help in fighting back against Sloan.
Days Of Our Lives Spoilers – Wednesday, January 25: EJ DiMera's Bombshell
Days of Our Lives spoilers for Wednesday, January 25 reveal that EJ DiMera (Dan Feuerriegel) drops a bombshell on Li Shin (Remington Hoffman). Wendy apologizes to Gabi for not telling her the truth. Then, Wendy tries to give Gabi a pep talk regarding Stefan.
Fans will also see Stefan kickstart his plan to get back at EJ. Elsewhere, Allie demands that Chanel admit the truth about her lingering feelings for Johnny.
DOOL Spoilers – Thursday, January 26
On Thursday, January 26, Allie will open up to Alex Kiriakis (Robert Scott Wilson). Meanwhile, Johnny and Chanel will have an honest conversation about their real feelings.
Fans can also expect Gabi to hide an unconscious Stefan from EJ. Nicole has a tense encounter with Sloan regarding Eric. Plus, Stefan's revenge scheme entangles an unexpected victim.
Days Of Our Lives Spoilers – Friday, January 27: Nicole Walker Drugged
On Friday, January 27, Gabi manipulates Li into getting what she wants. Allie confronts Johnny and Chanel after finding them in an embrace. Sloan leaves a bad taste in Roman Brady's (Josh Taylor) mouth. Plus, a drugged Nicole tells EJ that she wants to be intimate.
Which storyline are you looking forward to seeing the most during the week of January 23? What are your predictions for Allie, Chanel, Johnny, Alex, Nicole and EJ? What does the future hold for Eric, Sloan, Gabi, Li, Stefan and the rest of the Salem residents? Share your thoughts in the comments and remember to keep watching the soap on Peacock to find out what happens next.
Be sure to catch up on everything happening with DOOL right now. Come back often for Days of Our Lives spoilers, news, and updates.
---
We would love you too SUBSCRIBE to Celebrating the Soaps' FREE newsletters. It will be sent to your email inbox twice daily, once at 9:30 AM EST and the other at 6:00 PM EST.
Additionally, you can sign up for Celebrating The Soaps new post FREE notifications which sends a notification to your cell phone when a NEW post goes up. You will never miss anything that way! You can easily UNSUBSCRIBE HERE!
We LOVE hearing from our fans so please leave us a comment about the show or this article, below!