Days Of Our Lives Spoilers: Will The Truth End Xander & Chloe Or Only Strengthen Their Romance?
Days of Our Lives (DOOL) spoilers reveal that Xander Kiriakis (Paul Telfer) is about to find out that Baby Victoria Margaret Horton is his baby, not Rex Brady's (Kyle Lowder).
Will this "truth" bomb send him into Sarah Horton's (Linsey Godfrey) arms, or only strengthen his bond with Chloe Lane (Nadia Bjorlin)?
Days Of Our Lives Spoilers – Chloe Lane Will Come Clean
Days spoilers for the week of September 25 imply that Chloe will learn the truth. Of course, she stumbles upon it while overhearing a conversation between Rex and Philip Kiriakis (John-Paul Lavoisier).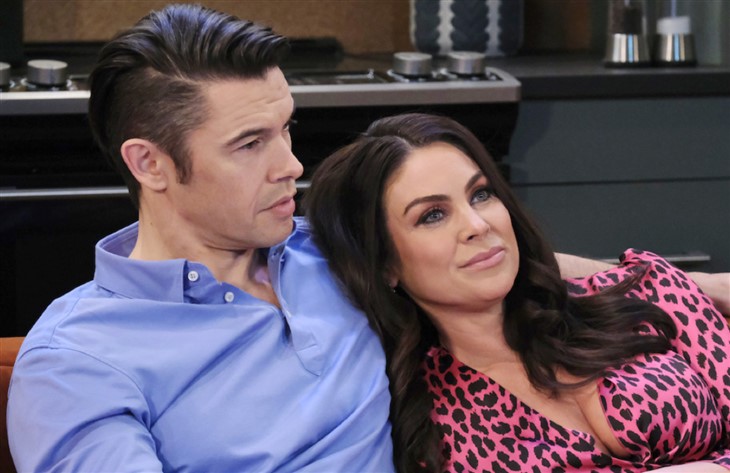 Still, while she will struggle with whether or not to tell Xandy the truth, in the end, the DOOL preview reveals that she will come clean.
In years past, Ms. Lane may have been tempted to keep a secret like this from her partner, in fear of losing them.
However, Chloe has significantly evolved over the years and knows all too well that secrets in Salem always resurface.
She's doing the right thing, but will she regret her decision in the aftermath of this all?
Days Spoilers – Xander Kiriakis Will Feel Betrayed
DOOL spoilers suggest that Sarah and Rex will move forward with their wedding in the days ahead, but it looks like it'll get derailed by Xand. There are still feelings between Xander and Sarah; it's clear on both ends.
However, Xander will feel very betrayed by Sarah, and her lying about the true paternity of little Victoria will be the latest obstacle in a possible Xarah reunion.
They'll likely butt heads, but now that Xander knows the truth, Sarah will be forced to include him in Victoria's life, moving forward.
Still, Chloe coming forward and not keeping this a secret will further solidify her romance with Xander. Communication and honesty are key in any relationship.
The fact that Chloe will take the chance of losing Xander to Sarah by telling him the truth will only bond these two, making their romance that much stronger.
Will the truth about Victoria's paternity make or break Xloe? Share your thoughts below.
Watch the popular Peacock soap daily to see what happens next and visit this site regularly for the best Days of Our Lives updates, spoilers, and news.