DOOL Spoilers: Marlena & Brady's Skewed Reunion, Anger Overshadows Joy?
Days of Our Lives spoilers for the week of April 3 reveal that Marlena Evans (Deidre Hall) will reunite with Brady Black (Eric Martsolf) and Belle Brady (Martha Madison). However, Marlena won't just be overjoyed to see Brady and Belle. Marlena could also lash out at Brady for how he handled Kristen DiMera (Stacy Haiduk), Chloe Lane (Nadia Bjorlin), John Black (Drake Hogestyn) and Rachel Black (Finley Rose Slater).
Days Of Our Lives Spoilers – Marlena Evans Comes Home
DOOL spoilers reveal that John was overjoyed when Marlena finally opened her eyes. Now that "Jarlena" has reunited, Salem's favorite "dead" psychiatrist will return to Salem. During the week of April 3, fans will watch as Marlena has a heartwarming reunion with her daughter, Belle. Marlena will also see her stepson, Brady.
DOOL Spoilers – Belle Brady Overjoyed
Belle and Marlena were very close. Belle went through a lot growing up with Sami Brady (Alison Sweeney). At the same time, Belle was there when Marlena went through a lot, including another devil possession.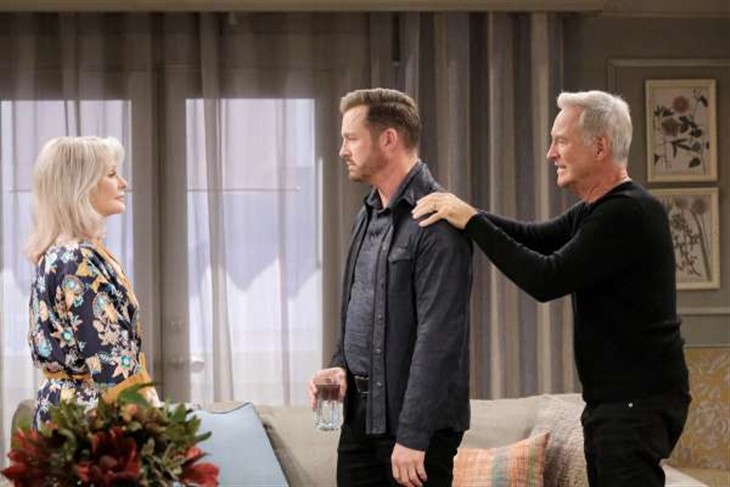 Even though Belle has been trying to move on after Marlena's death, she has handled it better than Eric Brady (Greg Vaughan). So, expect Belle to be ecstatic when she sees her mother alive and well.
Days Of Our Lives Spoilers – Brady Black's Skewed Reunion
Days of Our Lives spoilers for the week of April 3 reveal that Marlena's reunions with her loved ones all won't go well. Even though Marlena and Brady will be elated to see each other, it will include an unexpected lashing out.
It might be Marlena that blasts Brady for how he dealt with the orchid situation. Marlena might reason that so many people were hurt by Brady's secrecy, including John, Rachel, Chloe as well as herself.
DOOL Spoilers – Forgiveness & Promises
Even though Marlena might lash out at Brady, there will be forgiveness and apologies. Brady will probably admit that he screwed up royally and is still paying the price. Marlena will most likely assure Brady that everything will work out as it's supposed to. Marlena will reason that Brady's heart was in the right place.
Brady never meant for anyone to get hurt. In fact, Brady was trying to save Marlena, Kayla Johnson (Mary Beth Evans) and Kate Roberts Brady (Lauren Koslow). So, expect Marlena and Brady to patch things up. In the meantime, will Marlena help Brady deal with Rachel and Kristen?
What are your predictions for Brady, Chloe, Kristen, Rachel, Marlena and John? What do you think is going to happen when Marlena and Brady finally reunite? Will Marlena forgive Brady for his actions? Share your thoughts in the comment section below. Remember to keep watching the soap on Peacock to find out what is going to happen next.
Be sure to catch up on everything happening with DOOL right now. Come back often for Days of Our Lives spoilers, news, and updates.