DOOL Spoilers Weekly Update: Tempting Propositions, Diabolical Discoveries, London Mystery
Days of Our Lives spoilers for September 18 to 22 reveal that there will be tempting propositions. Plus, two characters make a discovery.
Considering it surrounds Vivian Alamain (Louise Sorel), it can't be good. Plus, Harris Michaels (Steve Burton) and Ava Vitali (Tamara Braun) head to London. Will the two fugitives find Susan Banks (Stacy Haiduk)? Keep reading to find out what is coming up in the Peacock soap opera.
Days Of Our Lives Spoilers – Weekly Recap
DOOL spoilers for Monday, September 18 reveal that Alex Kiriakis (Robert Scott Wilson) and Brady Black (Eric Martsolf) search for the truth in Greece.
Stefan DiMera (Brandon Barash) and Gabi Hernandez-DiMera (Camila Banus) are thrilled by their prospects. Leo Stark (Greg Rikaart) angrily confronts Dimitri von Leuschner (Peter Porte). Plus, Theresa Donovan (Jen Lilley) bumps into a loved one.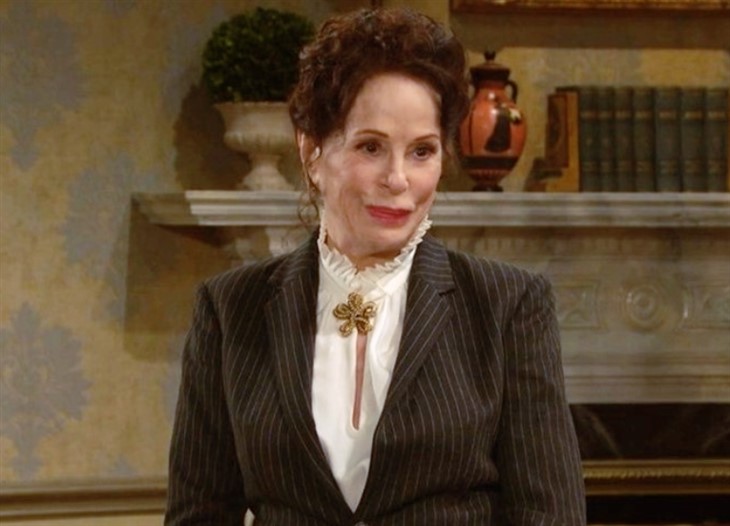 DOOL Spoilers – Week Ahead
On Tuesday, September 19, fans can expect Shawn Brady (Brandon Beemer) to go missing. This will cause Belle Brady (Martha Madison) to fly into a panic.
Rafe Hernandez (Galen Gering) grills Tripp Johnson (Lucas Adams). Ava and Harris search for Susan in London. Back in Salem, Wendy Shin (Victoria Grace) spies on EJ DiMera (Dan Feuerriegel).
Days Of Our Lives – Upcoming DOOL Spoilers
Days of Our Lives spoilers for Wednesday, September 20 reveal that EJ catches Wendy trying to hack into his phone.
MUST READ – DOOL Spoilers: Why Theresa Suddenly Wants Brady Back, Jen Lilley Explains 'Confusing' Storyline
Jada Hunter (Elia Cantu) confronts Talia Hunter (Aketra Sevillian) about her drunken and reckless behavior.
Meanwhile, Chanel Dupree's (Raven Bowens) rekindled romance with Johnny DiMera (Carson Boatman) blossoms.
Fans can also expect Rafe to put Tripp in the hot seat.
DOOL Spoilers – Thursday, September 21
On Thursday, September 21 reveal that Vivian and Maggie Horton Kiriakis (Suzanne Rogers) butt heads again. Chad DiMera (Billy Flynn) is stunned to find out the identity of his new boss.
Kayla Johnson (Mary Beth Evans) pushes Stephanie Johnson (Abigail Klein) about Chad DiMera (Billy Flynn). Plus, Brady and Alex start to get suspicious of Theresa.
Days Of Our Lives Spoilers – Friday, September 22: Alex Kiriakis Confronted
On Friday, September 22, Theresa confronts Alex. Theresa will also share some parental concerns with Brady. Justin Kiriakis (Wally Kurth) and Maggie make a shocking discovery.
Vivian has a proposition for Philip Kiriakis (John-Paul Lavoisier). Fans can also look forward to two weddings in the near future.
Which storyline are you looking forward to seeing the most during the week of September 18? What are your predictions for Maggie, Vivian, Justin, Alex, Brady and Theresa?
What does the future hold for Philip, Chad, Tripp, EJ, Wendy and the other Salemites? Share your thoughts in the comment section below. Remember to keep watching the soap on Peacock to find out what happens next.
Be sure to catch up on everything happening with DOOL right now. Come back often for Days of Our Lives spoilers, news, and updates.