General Hospital: Donnell Turner (Curtis Ashford) Makes A Young Fan's Day
General Hospital fans know that Curtis Ashford and Drew Cain, (Cameron Mathison) were friends. So, his storyline is current and long-running. Actually, he's been on the show since 2015. Well, fans grew to really like Donnell Turner, as he's not only a loyal friend in the show but a nice guy in real life. Now, he made a young fan's day and that's exactly the sort of thing that makes fans stay loyal to him.
General Hospital News – Donnell Turner As Curtis In The Show
August brought quite a lot about Curtis thus far. Sam asked Curtis to help out when she received a strange call from Drew Cain. Well, Drew and Curtis go back a long way. Recall, they worked together searching through some rather disgusting dumpsters. That revealed that Drew Cain harbors a rat phobia. Another scene revealed that it was Curtis who found Drew after his ex-girlfriend Kim Nero drugged him. Loyalty counts for a lot with ABC fans.
If you're keeping up with General Hospital, you might have heard spoilers that revealed that Drew Cain is held captive after his plane was sabotaged. While he probably makes it back to Port Charles, he probably won't do that in a rush and a hurry. It is possible that Curtis plays a role in helping him get back safely. Or at least, he safeguards Sam who is now in danger. However, in real life, Donnell Turner's not worried about Drew. Instead, he's playing at Ax throwing and he looks pretty good at it.
GH News – Star Donnell Makes A Fan's Day On Instagram
Taking to his Instagram on Thursday, August 19, Donnell Turner shared a short clip of himself. He threw some axes at a target and impressed his many fans. Actually, he hit the target dead center repeatedly. One GH fan joked, "Are you practicing to be the Next Daniel Boone????." Meanwhile, another fan wrote, "Sooo awesome! I want to try something like that one day! 😘 I'll have to check around my area! Good shot!."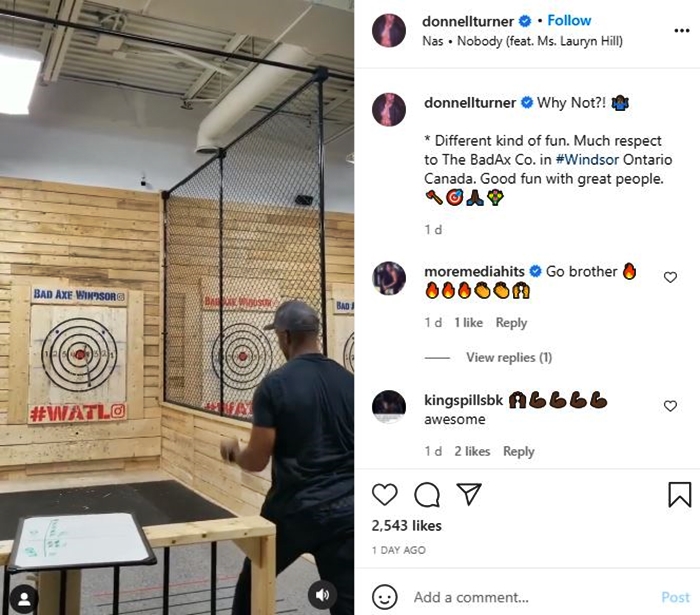 One General Hospital fan told the ABC star that her son really likes him in the show. Her message read, "You're my son Lucas's favourite (sic) character on GH!!!!" Well, several other fans agreed that they always liked him as well. One of them actually watched the show ever since 1976. Anyway, Donnell Turner replied to the fan who talked about her son, Lucas. He wrote, "Respect Lucas buddy.✊🏾"
General Hospital News – Young Fan So Excited
The GH fan later came back in the comments and told Donnell that she told her son about the reply. She wrote, "I told him what you said and he was over the moon excited 😊." Then, she added, "Now my son is running around the house saying "Curtis replied to me"…it's so cute! You made his day so thank you so much! 😘" Well other fans agreed that he seems like such a nice guy. One of them commented, "This is why you're my favorite!"
Remember to check back with us often for more news and updates about the cast of General Hospital on ABC.