General Hospital Spoilers: Carly And Drew Are Headed For Wedded Bliss — And Sonny Can't Stand It
General Hospital spoilers reveal Carly Spencer (Laura Wright) and Drew Cain (Cameron Mathison) are headed for wedded bliss — sort of. These two got themselves into some considerably hot water when they dabbled with insider trading and ended up getting burned. Carly lost her half of the Metro Court Hotel when she invested the capital for it into the merger between ELQ and Aurora Media that was supposed to be a slam dunk but petered out and didn't happen.
Now, General Hospital spoilers say Ned Quartermaine (Wally Kurth) is going to start slinging his threats about the SEC again, and Drew and Carly are going to jump into marriage as the only means to protect themselves from being required to testify against one another. One might think their biggest problem lies with the SEC, but it actually lies with Sonny Corinthose (Maurice Benard) — who isn't going to take the news of Carly's engagement well.
General Hospital Spoilers — Drew Cain And Carly Spencer Make A Big Decision
General Hospital spoilers show Drew and Carly know what they're up against. There won't be any convincing the SEC that they weren't participating in insider trading because they, in fact, were. If they want to shield themselves at all from having to testify against each other, they'll have to get married. This could be a long road for the both of them, because there's no telling how soon Ned might let this news drop to the SEC, and he could wait them out once they get married just to stick it to them. Furthermore, this could really have a negative impact on Carly and Drew's relationship when it takes the natural course of things off the rails and removes the ability for them to have an organic relationship with one another.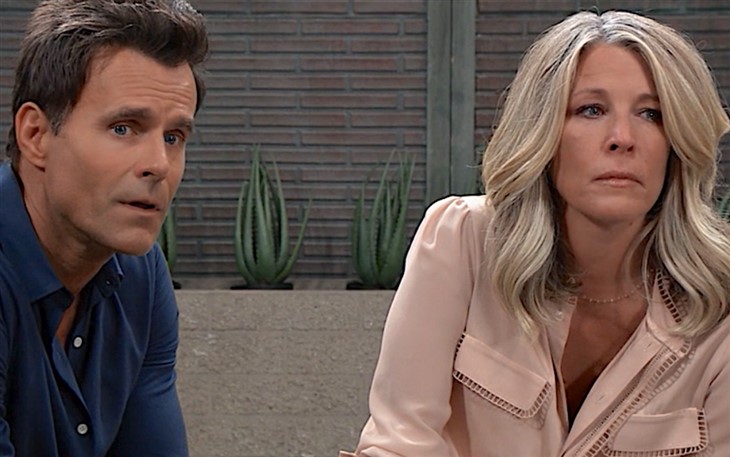 GH Spoilers – Hint Everyone Rallies Around Them
Despite the difficulty of giving up the organic nature of their romance, Drew and Carly will feel the warm embrace of their loved ones, family, and friends. Bobbie Spencer (Jaclyn Zeman) will be thrilled for her daughter, despite how fast-paced the marriage will feel to everyone. Michael Corinthos (Chad Duell) and Josslyn 'Joss' Jacks (Eden McCoy) will give her their blessing, but Carly's younger children, and Drew's daughter may have more difficulty processing the news — especially since they've kept their relationship hush. Everyone will be happy for them for the most part, except for one person — Sonny.
General Hospital Spoilers — Nina Reeves Is Livid
When Sonny hears that Carly and Drew are engaged to be married, his response is going to be noticeable. Furthermore, Nina Reeves (Cynthia Watros) is going to take note that Sonny was already aware that Carly and Drew were a couple — something she thought she was keeping from him all of this time. When Sonny seems rattled by Carly's news and the idea of having to actually see her with Drew — as his wife — Nina isn't going to rebound from it easily. Keep checking back with us for more GH news, updates, and spoilers just ahead.