General Hospital Spoilers: Carly And Sonny Reignite Their Passion!
General Hospital spoilers tease that Sonny Corinthos (Maurice Bernard) and Carly Spencer (Laura Wright) may be divorced, but they will always have a connection. Carly has started a new romance with Drew Cain (Cameron Matheson) while Sonny is engaged to Nina Reeves (Cynthia Watros). But neither of these new romances seem destined to last. And recent developments may remind Sonny of the reasons he fell in love with Carly in the first place.
General Hospital Spoilers – Carly Spencer Committed Insider Trading!
As viewers know, Carly was recently fined five million dollars for insider trading. Last year, Carly became aware of the fact that Drew and Michael Corinthos (Chad Duell) were planning to merge ELQ and Aurora Media. Acting on this information, Carly invested heavily in Aurora. Her intentions were to help but if the merger had gone through, Carly would have profited heavily. Unfortunately, the merger didn't happen. Carly sold her half of the Metro Court to cover her investment and she was unable to buy it back.
GH Spoilers – Nina Reeves Tipped Off The SEC!
Even though Carly didn't profit from her investment in Aurora, she was still guilty of insider trading. The SEC may have never discovered Carly's crime, but Nina tipped them off in a fit of anger. Carly could have faced a jail sentence but Drew made a deal that it would be he that went to prison but he couldn't keep Carly from receiving the fine. Carly purchased Kelly's Diner from her mother for a dollar and that was her first step in order to recover financially!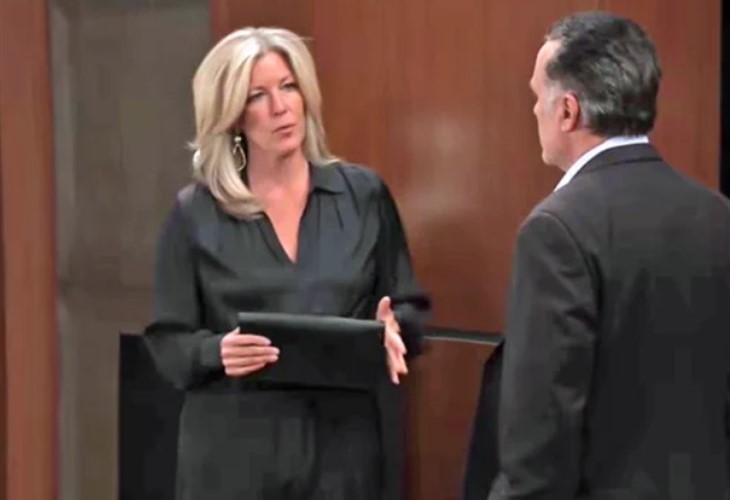 General Hospital Spoilers – Sonny Corinthos Will Remember Why He Fell In Love With Carly Spencer!
It's only a matter of time before Sonny and Nina break up. Once Sonny finds out that it was Nina who tipped of the SEC, it will likely be the end for them. Watching Carly work hard revamping Kelly's will also certainly remind Sonny of the woman he fell in love to begin with. Although she is with Drew now, that doesn't mean she will be able to resist her attraction to Sonny. Plus, she will enjoy hurting Nina in that way. But really, more than anything else, Sonny and Carly have a connection that they will always come back to.
GH Spoilers – What Do You Think?
Will Carly make a huge profit with Kelly's? Will Sonny find out what Nina did before their marriage? Are Sonny and Carly destined to be together? Anything can happen in Port Charles so stay tuned to General Hospital airing weekdays on ABC. And don't forget to check back right here regularly for all your General Hospital news, information and spoilers!