General Hospital Spoilers: Carly's Déjà Vu, Runs Interference While Michael And Sonny Fight Pikeman?
General Hospital spoilers and updates tease that Carly Spencer (Laura Wright) will experience déjà vu as she runs interference. Michael Corinthos' (Chad Duell) vendetta against Sonny Corinthos (Maurice Benard) could backfire when the Pikeman group invades his wedding and he and Sonny fight them.
General Hospital Spoilers – We've Been In This Place Before….
Sonny and Carly find themselves in a familiar situation when Michael's takedown attempt of Sonny backfires and Sonny and Dex Heller (Evan Hofer) run to the rescue at the wedding.
Sonny tried to check out exactly who the Pikeman group was, as did Michael and Dex before the arms exchange was ever set up but the Pikeman contacts weren't honest. Pikeman is led by relatives of old enemies of the Corinthos family from years ago who were also arms dealers, and if they'd known they wouldn't have engaged with them.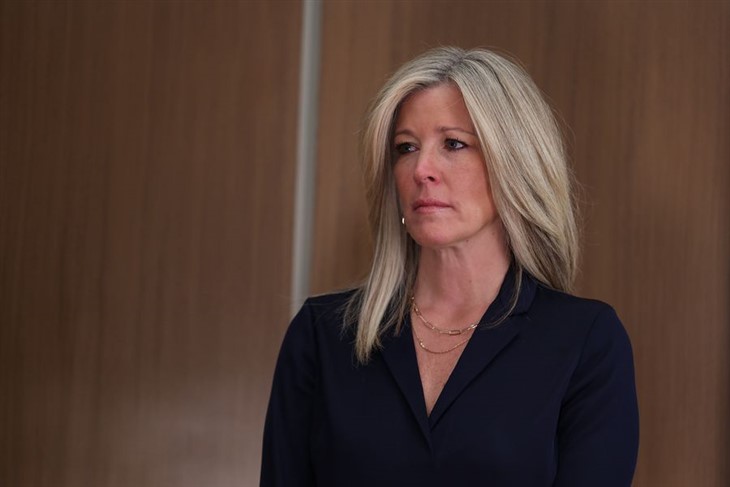 Drew Cain (Cameron Mathison) as well as Dante Falconeri (Dominic Zamprogna) are shocked to see mob mess invade Michael and Willow Tait's (Katelyn MacMullen) wedding. They round up all the children and women and get them in a safe place while Michael and Sonny and Dex work together to handle the invasion.
GH Spoilers – It Wasn't Supposed To Go Down This Way
Michael, of course brought on this mess himself by contacting dangerous people to try and set Sonny up on Federal charges. This was supposed to go down at the docks while Michael and Willow were getting married but instead, the Pikeman gang split up and came after him and Sonny.
Carly sets up a distraction and runs interference while Willow and Josslyn Jacks (Eden McCoy) and the children are taken to a safe place. Instead of Sonny being taken into custody by the feds at the docks in the middle of an illegal arms shipment, the Pikeman people flipped the script. Carly has déjà vu of mob invaded weddings to Sonny and the days of Luis and Lorenzo Alcazar (both Ted King) who were relatives of Pikeman's leader.
General Hospital Spoilers – Michael Corinthos And Sonny Corinthos Team Up
Michael finds himself teaming up with Sonny to protect their families and friends until the PCPD arrives, although Dante, Drew, Cody Bell (Josh Kelly) and Harrison Chase (Josh Swickard) help. This is not what Michael wanted to happen but his vendetta against Sonny has obviously blown up in his face. Carly is glad Sonny showed up, Drew may have been a Navy Seal but he's no Jason Morgan (Steve Burton).
One thing for certain, Michael will have to go back to the drawing board or forget about his vendetta. He can't deny Sonny showed up for all of them when he was desperately needed.
Be sure to catch up on everything happening with GH right now. Come back here often for General Hospital spoilers, news, and updates.