General Hospital Spoilers: Diane Miller Starts Digging, Finds Martin Grey Lurking Behind The SEC
General Hospital spoilers tease Diane Miller (Carolyn Hennesy) is inching closer to blowing the lid off of Nina Reeves' (Cynthia Watros) devious scheme to land Carly Spencer (Laura Wright) in federal prison. Her boyfriend, Sonny Corinthos (Maurice Benard), is still in the dark about his lover's betrayal and is trusting his longtime attorney to figure out who reported Carly and Drew Cain (Cameron Mathison) to the SEC.
Little does he know that it's Nina who's behind it all and hoping to rid herself of Carly once and for all. Diane, being the sharp and savvy lawyer she is, won't have trouble believing it when she learns the truth, but can the same be said for the don who's in love with her?
General Hospital Spoilers — Nina Reeves Finds Her Seat
As Nina becomes far too curious about what Diane is up to while digging into the SEC investigation, it's clear that she's going to put herself in a precarious position. She can't just ask Sonny outright about it or he might wonder why she's interested at all in Carly's affairs.
Okay, let's be honest, he will absolutely wonder why she's digging for dirt on his ex-wife. Nina can't afford to raise her man's eyebrow even a smidgen. So when she sniffs around Diane instead, she's going to hope for reciprocation. What she'll be met with instead is a strong distaste for her nosing around in Carly's business.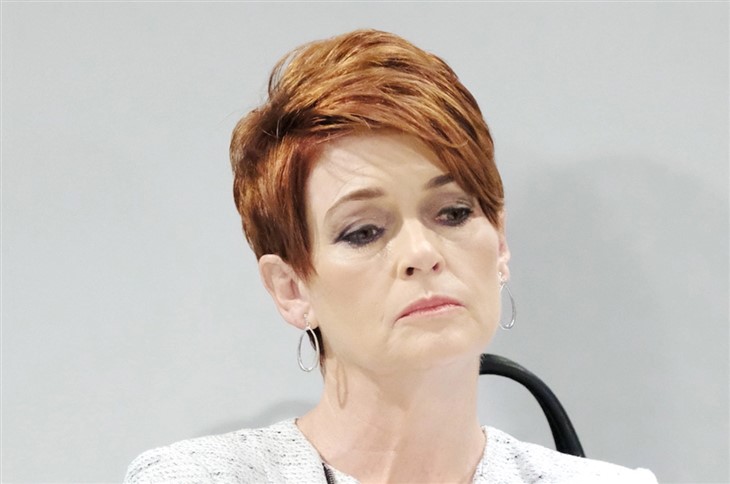 GH Spoilers – Tease Marty Grey Is Covering For Someone
Diane's instincts have always been spot on, and this time will be no different. She will instantly know that Marty wouldn't have any interest in seeing Carly and Drew go to jail — nor what they do with their money. Ergo, someone must have hired him. Of course, Diane understands attorney-client privilege well. Sitting down with Marty and asking for the truth about what he's up to — and for whom — isn't going to cut it. However, when Sonny becomes aware of Marty's involvement, he may have other means to make the guy squeal.
General Hospital Spoilers — Diane Miller Fuels Carly Spencer's Irritation Toward Nina Reeves
Diane is working for Sonny, but that doesn't mean she won't disclose what she finds to Carly, with the don's ay-okay. It won't make much sense to Carly that Marty would have any involvement, but he's a popular attorney in town and wouldn't hesitate to take money from pretty much anyone.
He's not quite as esteemed and strict about his clientele as Diane is, although she does stay on call for a world-renowned mobster. Some interested parties might try to draw lines between Marty and Valentin Cassadine (James Patrick Stuart), who could have an interest in shaking things up with the Quartermaine family again, but Carly and Drew won't buy it. This is just the start of Diane's digging, so Nina better watch out. Stay tuned for more General Hospital news and spoilers just ahead.