General Hospital Spoilers: Esme Entertains Flirting With A New Guy, And Spencer Won't Have It
General Hospital spoilers report Esme Prince (Avery Kristen Pohl) is eager to move on from her current living situation. Sharing space with Laura Collins (Genie Francis) and Kevin Collins (Jon Lindstrom) has been fine. Rooming with Spencer Cassadine (Nicholas Alexander Chavez) is another story.
Esme hasn't been able to stave off the budding feelings she's developing for her ex-boyfriend, and she knows it's only a matter of time before it becomes unbearable for her to watch him live his best life with Trina Robinson (Tabyana Ali) every day. But what Esme won't expect is the sudden jealous streak that manifests in Spencer when he sees her with another guy — and he won't see it coming either.
General Hospital Spoilers — Esme Prince Is More Than Ace's Mother
When Esme happens to have an encounter with another guy, it's going to remind her that she's more than just a single, working mother.
She has emotional needs that need to be met, too, and Ace Cassadine (Jay and Joey Clay) will only be happier if his mom is happy, too.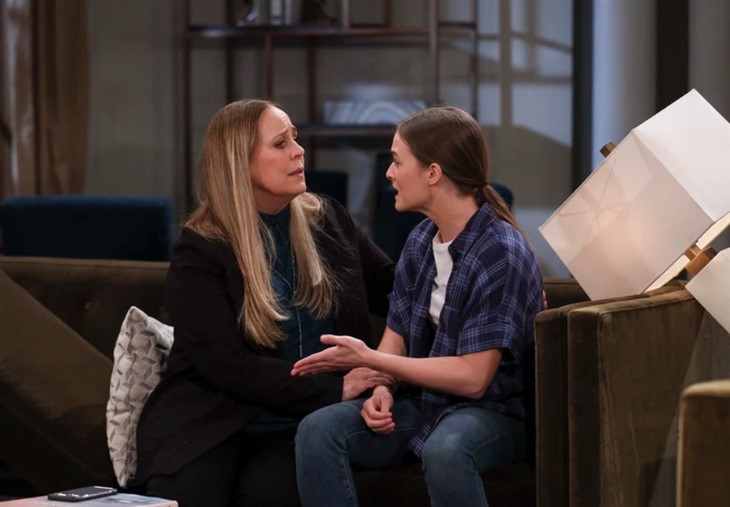 This exchange with another guy — who some are rumored to think will be Adam Wright (Joshua Benard) — could ignite a desire in Esme to pursue the next chapter of her life. It might also ignite a desire in Spencer to make sure he's a part of it.
GH Spoilers – Leak Jealousy Rears Its Head
Watching another guy step into what he sees as his role — even just for a moment — is going to drive Spencer up the wall. He can't fathom going even one day without seeing Ace.
He can't stand the thought of missing even one milestone moment in his life. But he never realized he also doesn't want to miss out on Esme's day to day life either.
All of this time he thought he was angry with her for trying to take Ace away, but as it turns out, he doesn't want to lose her either.
General Hospital Spoilers — Spencer Cassadine Can't Explain Himself
Spencer won't be able to explain why he behaved the way he did without grinning from ear to ear, and it may fuel some hope in Esme's heart that there could be a future for her with Spencer after all.
If so, does she really want to walk out of that opportunity right now? She has the most access to Spencer she will ever get.
Could she use his jealous side to lure him in closer in hopes that he will soon ditch Trina for her? Stranger things have happened. Keep checking back with us for more GH news and spoilers, right here, every day.