General Hospital Spoilers: Friday, March 15 – Molly & Kristina Argue – Chase Gets Bad News – Sonny Gets Closer To Dante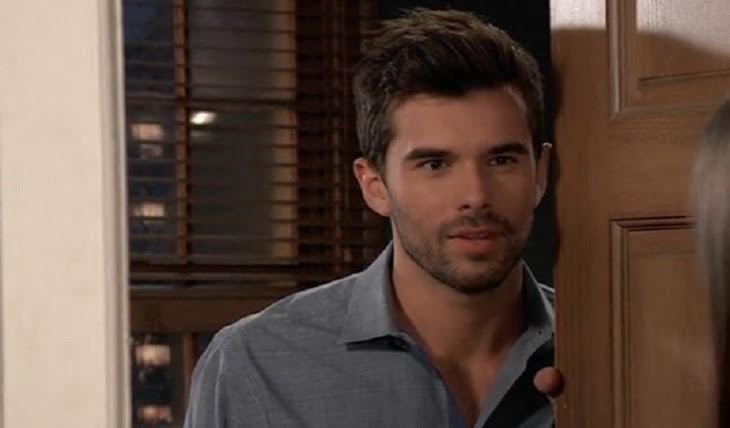 General Hospital spoilers for Friday, March 15, tease that Valentin Cassadine (James Patrick Stuart) will catch up with Anna Devane (Finola Hughes) at The Metro Court. Anna has just learned from Dr. Andre Maddox (Anthony Montgomery) that she was "patient 1" in the memory experiments, and that some of her sister's memories were transferred to her. Valentine will note that she must be desperate, and Anna will reply that she's only desperate for information.
Meanwhile, Hamilton Finn (Michael Easton) will pay Harrison Chase (Josh Swickard) a visit, and it looks like he'll have some bad news. He'll tell Chase that he needs to call their dad, Gregory Chase (James Read). Of course, last viewers say Gregory, he was being treated by Finn at GH, so there may be some bad news regarding his health that Finn is privy to.
Next, on the new episode of GH on Friday, March 15, Molly Lansing (Haley Pullos) will get into it with Kristina Corinthos-Davis (Lexi Ainsworth) over Dawn of Day (DOD). Kristina has really dug in to DOD lately and she's now pushed Valerie Spencer (Brytni Sarpy) out of her life over it. Molly will let Kristina have it and she'll say that Kristina has changed. Kristina will reply that "you don't know me at all."
At DOD, Shiloh Archer (Coby Ryan McLaughlin) will corner Sam McCall (Kelly Monaco), who has just arrived at the DOD house to snoop around. But Shiloh will want to talk with Sam instead. He's likely figured out that she came to the house with an agenda, and he'll enjoy toying with her a bit. He'll remain shirtless throughout the exchange, which will unnerve Sam.
Meanwhile, at Charlie's Pub, Jason Morgan (Steve Burton) will have a chat with Michael Corinthos (Chad Duell). They'll be concerned about Sonny Corinthos (Maurice Benard) and his dangerous mission in Turkey to find Dante Falconeri (Dominick Zamprogna). Sonny's been off the grid for a while, and Jason will remark that Sonny needs to stay focused if he's going to find Dante and bring him home.
What's better than a date night, West Coast? But make sure to bring an umbrella, the forecast is calling for rain. ☔️ ☔️ ☔️
A sexy, new #GH starts RIGHT NOW on ABC! @josh_swickard #GH55 pic.twitter.com/bdZsk89SKB

— General Hospital (@GeneralHospital) March 14, 2019
Finally, on the new episode of GH on Friday, March 15, Sonny will continue on his quest to track down Dante with the help off his young companion who seems to have inside information on Raj Patel's (Nosir Dalal) whereabouts, and therefore Dante's whereabouts. It looks like he'll soon be successful in unearthing Dante, but will it be the happy reunion that he wants it to be?
It looks like we're in for a great episode on Friday! Stay tuned to the ABC soap and don't forget to check Celebrating The Soaps often for the latest General Hospital spoilers, updates, and news.
Read more news, spoilers, and gossip on our Celebrating The Soaps General Hospital home