General Hospital Spoilers: Julexis Reunited After All? Alexis' Dream Hints Julian Romance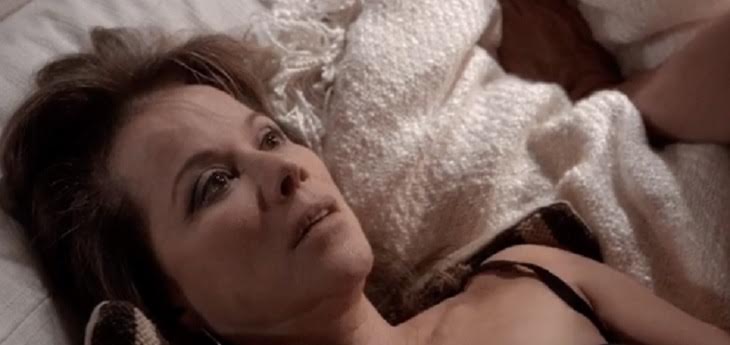 General Hospital spoilers tease that "Julexis" could be a reality eventually on GH, as Drew Cain (Billy Miller) reuniting with Kim Nero (Tamara Braun) also could be, if writers were putting some hints into the sexy dream that Alexis Davis (Nancy Lee Grahn) had about reuniting with Julian Jerome (William DeVry)!
In Friday, March 8th's episode, viewers saw Alexis interrupted in a phone call to her psychiatrist, Neil Byrne (Joe Flanigan) by a knock on her door, which turned out to be Julian Jerome needing to speak with her urgently! Julian had just found out that Oscar Nero (Garren Lake Stitt) was getting worse, and that Kim had reunited fully with Drew over it, leaving Julian out in the cold, so to speak, and Julian came to Alexis to get warm!
Julian confronted Alexis with wanting to get back with him, even though she kept denying it, and confronted her about all her mixed signals, which have been obvious not just to Julian in this dream, but to General Hospital viewers!
"Miracles are a lot more common than you might think." #GH55 pic.twitter.com/ClmoO01wt3

— General Hospital (@GeneralHospital) March 14, 2019
In reality, even though Kim had just left to be with Drew after a hot sex session which was her idea, with Julian, it was because she got the call from Josslyn Jacks (Eden McCoy) about Oscar having a bad seizure and being hospitalized in Niagara Falls, so of course she had to leave with Drew to go there.
She didn't ask Julian to come, nor did he expect her to since it so obviously was a family matter and he's not Oscar's father. She told him Oscar had suffered another seizure and was in trouble, but not that he was in Niagara Falls, where his sister Ava (Maura West) also was; if she had, he may have gone too to check up on Ava, if anyone had let him in the loop about "Kevin Collins" (Jon Lindstrom) really being Ryan Chamberlain, and Ava eloping with the serial killer!
Alexis' dream could have hints for the future of both "Julexis" and Kim and Drew getting together; keep watching GH and checking General Hospital spoilers frequently for all the news, updates and latest developments!
Read more news, spoilers, and gossip on our Celebrating The Soaps General Hospital home