General Hospital Spoilers Friday, March 24: Esme Skeptical, Sonny Threatens, Spencer Strategizes, Valentin Inpatient
General Hospital spoilers for Friday, March 24, 2023, reveals Esme Prince (Avery Kristen Pohl) is growing more suspicious of everyone around her, especially Victor Cassadine (Charles Shaughnessy). Sonny Corinthos (Maurice Benard) makes his intentions known, and it leaves Dex Heller (Evan Hofer) spooked. Spencer Cassadine (Nicholas Chavez) deliberates over what comes next. Trina Robinson (Tabyana Ali) is caught by Marshall Ashford (Robert Gossett). Eileen Ashby (Heather Mazur) tells Valentin Cassadine (James Patrick Stuart) how it's going to be.
General Hospital Spoilers – Friday, March 24, 2023: Esme Price Is Skeptical
Esme doesn't know who to trust since everyone who wants to help her seems to have their own reasons for it. With an agenda around every corner, how is she supposed to know which decisions to make in the best interest of her son, Ace Cassadine?
GH Spoilers – Say Sonny Corinthos Shakes Dex Heller Up
When Sonny tells Dex how it's gotta be, he's going to do so in a classic mob boss way that will leave Dex wondering if there is more to it than Sonny is saying. Should he be reading between the lines when Sonny tells him the most important part of the job is hitting the target? Is Sonny hinting around to his own target he has in mind — like Dex?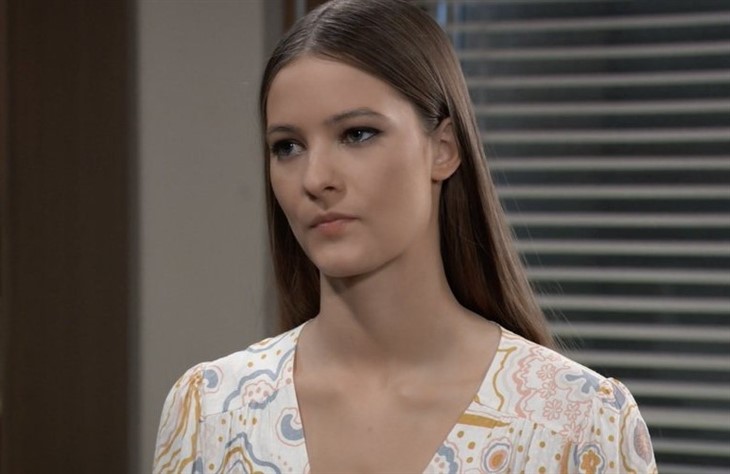 General Hospital Spoilers — Spencer Cassadine Strategizes With His Uncle
Spencer might be living with his Uncle Sonny, but it's his Uncle Victor who is going to bend his ear this time and help him sort things out. Spencer is frustrated that Esme won't comply with the plans he put in place to put her up at the apartment above Kelly's while she figures out her life.
He got so flustered over it at Spring Ridge that he let her really have a piece of his mind. It didn't work. Now, Victor is going to throw a new offer on the table when he asks what Spencer wants for Esme. Will he take the bait and let his uncle take her out?
GH Spoilers – Suggest Trina Robinson Sneaks Around
When Marshall catches Trina sneaking through the house like she doesn't belong there, he's going to call her out on the spot. The longer she stays away from her mother, Portia Robinson (Brook Kerr), the more of a stranger she's going to feel like in her own home. Something's got to give. Will Marshall be able to get through to her?
General Hospital Spoilers — March 24 — Eileen Ashby Lays it All Out
Valentin is growing tired of this long-winded game to catch his father and take him down, but Anna Devane (Finola Hughes) will remind him the goal is in sight. That being said, if they want to take Victor down, Eileen is going to suggest they need to do it on her terms. Is Valentin really going to take orders from her?
Which storyline are you most looking forward to following on GH on Friday, March 24th? Let us know, and keep checking back for more General Hospital news and spoilers.