General Hospital Spoilers: Friday, November 9 – Liz Lends Support – Margaux Confronts Her Mom – Carly's A Person Of Interest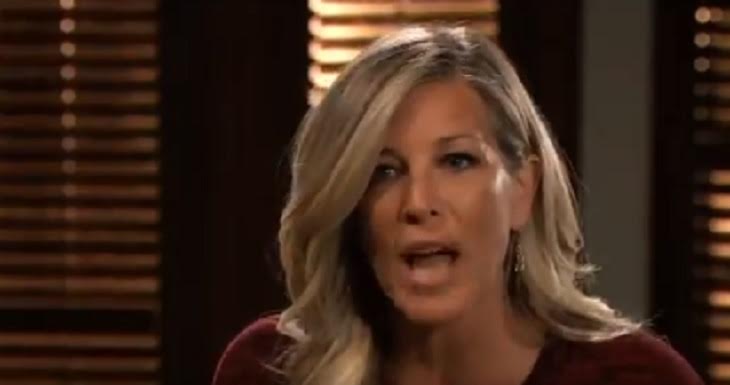 General Hospital spoilers for Friday, November 9, tease that Terry (Cassandra James) and Elizabeth (Rebecca Herbst) will have a chat. Terry's got something on her mind and needs to hash it out with her friend. Whatever it is, Terry will confide in Elizabeth, and Elizabeth will offer her support.
Meanwhile, Franco (Roger Howarth) will sit down with someone for a chat and will encourage this person to tell him everything. Chances are, it's Ava (Maura West) and Franco wants to hear the details about when she found Mary Pat's (Patricia Bethune) body at her gallery.
Next, on the new GH episode on Friday, November 9, Kiki (Hayley Erin) and Griffin (Matt Cohen) will cozy up at Kiki's apartment. They'll enjoy each other's company, and Kiki will comment that everything's taking a turn for the better.
Sasha (Sofia Mattson) and Nina (Michelle Stafford) will meet up as well, and the two will have a chat. Nina will want to address something with Sasha, and it sounds serious. "I may have acted out of turn," she'll tell Sasha. What could this be about?
Chase and Jordan are on the hunt for a murderer, West Coast. So, what brings them to Franco and Elizabeth's brownstone?
A brand-new #GH starts RIGHT NOW on ABC! #GH55 pic.twitter.com/x5oktTtrGK

— General Hospital (@GeneralHospital) November 8, 2018
Next, at Jeannette's (Ely Pouget) house, Sonny (Maurice Benard) will look on wide-eyed while Margaux (Elizabeth Hendrickson) confronts her mom about her father's death. Jeannette will stand there stunned as Margaux tell her that she just wants the truth.
Carly (Laura Wright) will arrive at the police station for questioning in Mary Pat's murder investigation. Carly will scoff at Chase (Josh Swickard) and Jordan (Briana Nicole Henry) and wonder why Ava's not a person of interest, since the body was found in her gallery.
Finally, on Friday, November 9, Ava will arrive at "Kevin's" (Jon Lindstrom) office for another therapy session. She's eager for the session and more insight into her dark nature. "Are you ready for me?" she'll ask. "Ready and waiting!" Ryan will reply.
It sounds like we're in for some great scenes on Friday's episode! Stay tuned to the ABC soap and don't forget to check Celebrating The Soaps often for the latest General Hospital spoilers, updates, and news.