General Hospital Spoilers: Friday, October 12 – Kim Confronts Aiden – Nina Questions Sasha – Nelle And Michael Have Words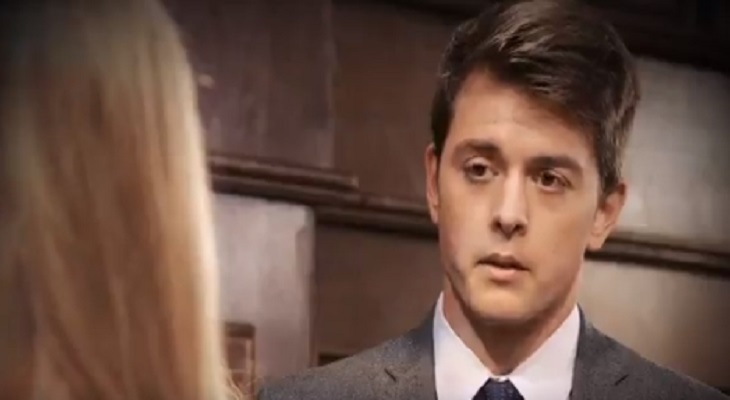 General Hospital spoilers for Friday, October 12, tease that Kim (Rebecca Herbst) will finally get to the bottom of what's troubling Aiden (Jason David). Aiden has been faking illness to avoid school, and Kim has been suspecting that something may be going on at school that Aiden's trying to avoid. It looks like the truth will finally come out, and Kim will softly question Aiden about why he kept it from her. What could it be?
Meanwhile, Jordan (Briana Nicole Henry), Chase (Josh Swickard), and Valerie (Brytni Sarpy) will meet up, and it looks like Chase will tease Valerie a bit. Valerie's a new detective, and she's probably in for her share of ribbing and grunt work for the time being. It's a rite of passage that all rookies go through.
Next, on the new episode of GH on Friday, October 12, Curtis (Donnell Turner) and Valentin (James Patrick Stuart) will meet up on the pier. Valentin will want updates on how Nina's (Michelle Stafford) meet up with Sasha (Sofia Mattsson) went, which Curtis brokered. Curtis didn't stay for much of Nina and Sasha's interaction, but he knows that they at least got off on the right foot. Curtis will tell Valentin that the ball's now in Sasha's court.
Speaking of Nina and Sasha, they'll have drinks together and continue to get to know each other. Nina will decide to show Sasha the necklace that Madeline (Donna Reeves) left her, and she'll ask Sasha whether she has the other half. GH spoilers say that Nina will regret her actions, so it looks like Sasha may not have the other half, and/or may be put off by Nina's eagerness.
Next, Alexis (Nancy Lee Grahn), Kristina (Lexi Ainsworth), and Sam (Kelly Monaco) will sit down to lunch together. Alexis will probably start to push Kristina's buttons again, as typically happens when the two of them are together. At any rate, the conversation will center too much on herself for Kristina's tastes, and she'll deflect by turning to Sam and saying, "I'd much rather have a conversation about you and Jason."
#BehindtheScenes: tech skills + street cred x brute force = the dream team. @BfordAnderson @MauriceBenard @1SteveBurton #GH55 pic.twitter.com/1T5Yjgi3My

— General Hospital (@GeneralHospital) October 11, 2018
Finally, on Friday, October 12, it will be time for one of Nelle's (Chloe Lanier) court dates. It looks like Carly (Laura Wright) and Michael (Chad Duell) will both be present for the hearing. The two will chat before the hearing, and Carly will remark that Nelle's reign of terror is over. But soon, Nelle will enter the courtroom with words for Michael. Chances are, she'll offer Michael some sort of tidbit to keep her fresh in his mind going forward. Will she also offer another clue concerning their baby?
It sounds like we're in for some great drama on Friday's episode! Stay tuned to the ABC soap and don't forget to check CDL often for the latest General Hospital spoilers, updates, and news.