General Hospital Spoilers: Gladys Catches Onto Brook Lynn's Espionage Act, Blackmails Her Into Silence
General Hospital spoilers reveal Brook Lynn Quartermaine (Amanda Setton) is no stranger to secrets and deception, but her latest scheme may be her riskiest yet. The brunette beauty knew that if she wanted to keep her secret safe from Harrison Chase (Josh Swickard), she had to return to work at Deception.
With a heavy heart and a determined spirit, Brook Lynn reported for duty, ready to be Tracy Quartermaine's (Jane Elliot) spy on the inside. But as she navigates the high-pressure world of cosmetics and corporate espionage, she will start to wonder if she made the right choice.
As Brook Lynn starts to whisper trade secrets to her Granny, someone else is going to learn what she's up to — Gladys Corbin (Bonnie Burroughs). This is going to come in mighty handy for Gladys, who has fallen on hard times.
General Hospital Spoilers — Brook Lynn Quartermaine Says Too Much
Brook Lynn and Chase have just made amends, and his romantic gesture outside the Q rose garden is more than she could have asked for. Still, she knows she's rekindling their romance with another set of lies lying beneath them.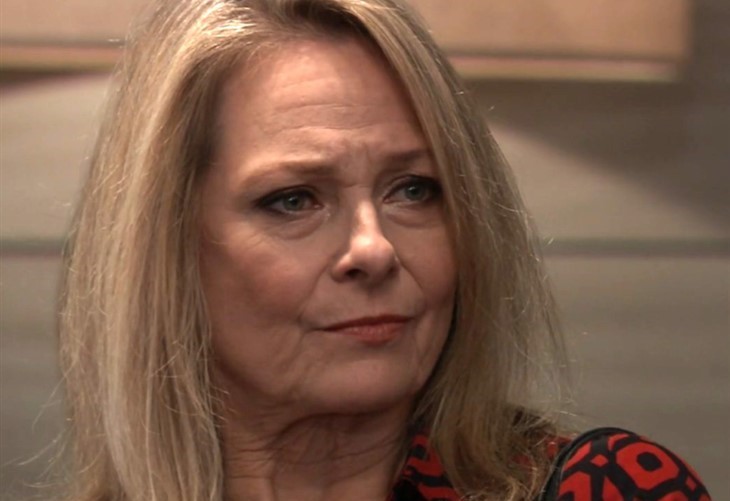 As she tries to ignore the impulse to overanalyze how this can possibly work with a crumbling foundation of lies, she's going to be busy running back to her grandmother with every snippet of news she can get her hands on about Deception's up-and-coming projects.
In a frazzled moment when she's not paying close enough attention, Gladys will be within ear shot as Brookie divulges company secrets to Tracy. We can expect she won't waste that leverage.
GH Spoilers – Hint Gladys Corbin Is In Dire Straits
Brook Lynn isn't the only one selling out her loved ones to save her own skin. Gladys knows a thing or two about that. Selina Wu's (Lydia Look) poker games at The Savoy have proved to be rather disastrous for Gladys, who can't hold onto her — or Sasha Gilmore Corbin's (Sofia Mattson) — money. Selina manages to make a killing at Sasha's expense, leaving Gladys in even deeper financial ruin.
Gladys has been searching for a way to pay Selina back, and extorting the funds from a Quartermaine might seem like a fine financial move when the chips are down and Gladys feels like her back is against the wall.
General Hospital Spoilers — Selina Wu Always Knows Too Much
Gladys is far from a clever woman. She might be able to blackmail and swindle Brook Lynn out of $80 gran, but she's still no match for a woman like Selina. The last thing on Gladys' mind is protecting anyone else's interests.
When she tells Selina she has the money to pay her debts, she won't hold back on showcasing how she came up with the loot. It seems that Gladys is still longing to be a part of that inner circle and show Selina what she's really made of.
Will Selina be impressed enough by Gladys' bold move in blackmailing Brook Lynn to let her back into her next game? Perhaps, especially since Selina now has the leverage of knowing Brook Lynn's dirty little secret, too. Thanks, Gladys! Stay tuned for more GH news and spoilers just ahead.