General Hospital Spoilers: Carly Distraught Over Sonny Wedding — And Drew Notices
General Hospital spoilers hint Carly Spencer (Laura Wright) is having a hard time digesting the news: Sonny Corinthos (Maurice Benard) has asked Nina Reeves (Cynthia Watros) to be his bride. This takes things to a whole other level. Nina cannot possibly think she deserves the title of being Mrs. Corinthos. We all know that slot is reserved for Carly anyway. Carly knows Sonny truly does care about Nina, but she never thought he would take things this far.
This is going to have a ripple effect on the whole family, few of which will express any happiness for the couple. But no one will feel the impact more than Drew Cain (Cameron Mathison), who will start to wonder whether his entire relationship with Carly has been a placeholder until she's ready to go back to her ex.
General Hospital Spoilers — Carly Spencer Can't Wrap Her Head Around It
No one knows better than Carly just how much Sonny loves to be settled with a wife at home, but this has to be his worst pick yet. Nina isn't even cool with the way he lives his life.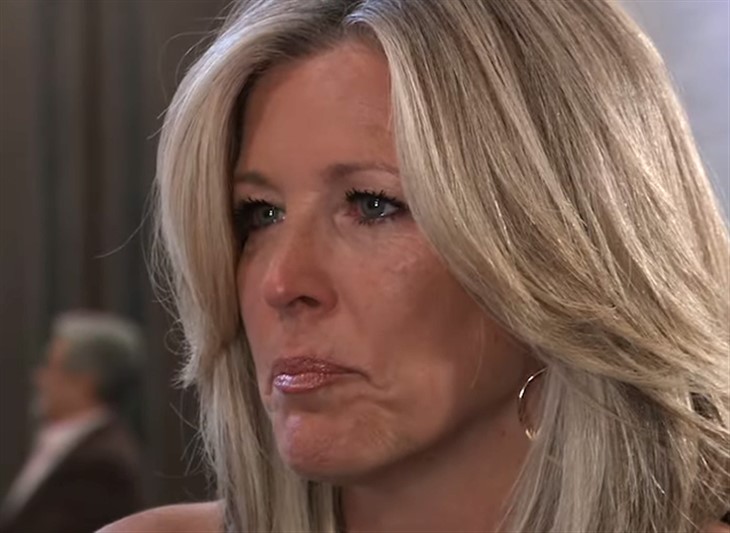 Is she really ready for 24/7 supervision and security? Is Sonny ready to divulge the inner workings of his business to her — and is she ready to hear what he's really up to when he's not with her?
Carly might go to great lengths to point this out, and it's going to bother her beau even more than the ring on Nina's finger gets to Carly.
The more everyone talks about Sonny and Nina tying the knot, the more it will appear to drive Carly crazy, and that's not going to make Drew feel very confident in their relationship.
GH Spoilers – Suggest Drew Cain Congratulates The Happy Couple
Drew will be the upstanding guy he always is and congratulate Nina and Sonny. He may not agree with everything Nina has done, but he and Sonny have never been enemies, and he's not seeking to make one out of Nina.
Little does he know, Nina has already done her part to make sure they come to that conclusion when they learn she turned Drew and Carly into the SEC.
Still, right now, it's going to look like Carly can't get over the fact that Sonny really is moving on, and that will disturb Drew deeply.
General Hospital Spoilers — Desperation Could Take Over
Drew is normally a pretty level-headed guy. He's not known for losing himself in love or forsaking his common sense and reason for a woman. However, this time is going to be different.
He and Carly have already been through so much together, and it stands to reason that Drew expected them to go the long haul. So when it seems like Carly can't focus on anything but her past, Drew might feel inclined to propel her into the future with his own proposal.
Rumor has it Sonny and Nina aren't the only residents of Port Charles headed for newlywed bliss this summer. Will Carly say yes, and if so, is it only as a means of distracting herself from the loss she feels over Sonny marrying someone else? Stay tuned for more GH news and spoilers just ahead.