General Hospital Spoilers: Griffin Framed For Kiki's Murder – Ryan's Gift To Ava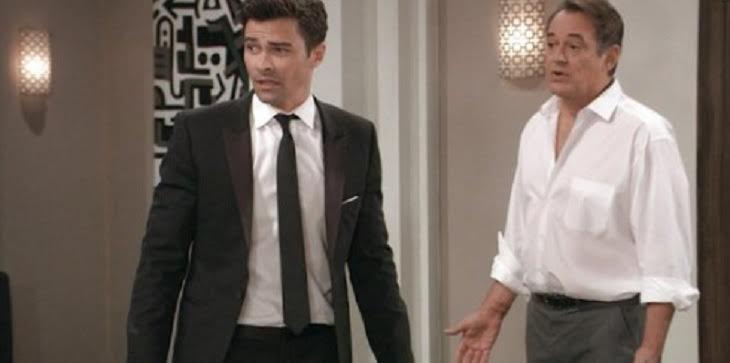 General Hospital spoilers tease that the evidence that Detective Harrison Chase (Josh Swickard) reported he found in Griffin Munro's (Matt Cohen) apartment was planted by Ryan Chamberlain (Jon Lindstrom)!
In Ryan's sick, twisted mind, he could think of no better gift for his goddess Ava Jerome (Maura West) than to kill her pesky, hypocritical, holier-than-thou (in his mind) daughter Kiki Jerome (Hayley Erin) and frame her boyfriend Griffin for the murder!
General Hospital viewers may wonder why Ryan didn't just kill Griffin too? Historically, Ryan has only killed women, and blondes seem to be his favorite targets. Besides, in this case, Ava wanted both Griffin and Kiki to suffer, and Griffin can't suffer if he's dead. But Ryan definitely met his goal of making him suffer, although Kiki's body looked like she hasn't been touched.
General Hospital Spoilers – Ryan Has Done It Again!
General Hospital spoilers imply she was stabbed but the only blood visible was on her shawl which Griffin found. One has to wonder how Ryan does it…leaves Ava to "take care of some business", stabs Kiki to death, and returns in the same suit with no blood spatter on him and leaves none on Kiki! Maybe he does his kills in a Hazmat suit!
Never wake Jason Morgan from his slumber… unless you want to lose a hand. #GH is brand-new and STARTS NOW on ABC! @1SteveBurton #GH55 pic.twitter.com/qeQavRprfM

— General Hospital (@GeneralHospital) November 30, 2018
Ryan is obviously SMITTEN with Ava; something that hasn't happened in the history of Ryan Chamberlain..he was obsessed with Felicia Scorpio, (Kristina Wagner) but not in love with her! He never tried to get any of his victims into bed; Ryan historically has been a misogynist (woman hater)!
General Hospital Spoilers – Will Ryan Reveal Truth To Ava?
He has historically been similar to a rapist, in that his crimes against women have not been about love or even lust, but of power and control. But in Ava, he thinks he's found a female version of himself! There is however, one important difference between Ryan and Ava (other than the obvious). Ava has a heart and some compassion, Ryan does not!
Could Ryan be SO smitten that he loses perspective and BRAGS to Ava about what he did for her? Will that be his downfall? If so, he just might find himself the target of Ava's rage! Stay tuned to GH and keep checking General Hospital spoilers frequently to see what happens next in the twisted romance of Ryan and Ava!