General Hospital Spoilers: Liesl Isn't A Bone Marrow Match, James Swings In For The Save?
General Hospital (GH) spoilers have seemingly hinted that Liesl Obrecht (Kathleen Gati) could be a bone marrow match to save Willow Tait (Katelyn MacMullen). However, this is the land of Port Chuckles, and there's nothing more the soap loves than providing a plot twist in the mix. What if Liesl doesn't end up being a match? Will all hope be lost for Willow and her young family?
General Hospital Spoilers – Liesl Obrecht Is Outraged, But Why?
GH spoilers imply that TJ will provide some important news the week of February 27th. Could he have the results of Liesl's bone marrow test? Added teasers suggest that Obrecht will also be outraged by something or someone, so there's a good chance she learns she isn't a match for Willow, after all.
This would upset Liesl to no end. Not only because this means Willow's time will be running out (even more now), but also because she was unable to save the day for Nina Reeves (Cynthia Watros) and her daughter. But could there be hope in the form of another family member?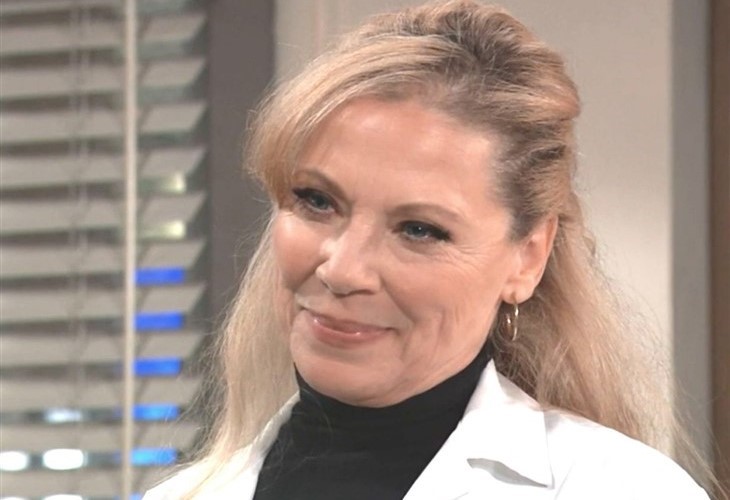 GH Spoilers – Maxie
Jones

Is Brought Into The Loop

GH spoilers for the week of February 27th tease that Brook Lynn Quartermaine (Amanda Sutton) will confide in Maxie Jones (Kristen Storms). Now this could be about the "deal" she signed with Linc Brown (Dan Buran), or it may be about Willow's current health condition. If BLQ notes that Nina and Liesl have been tested and are not a match for Ms. Tait, Jones may have an epiphany. After all, Willow has one more newfound bio family member in Port Chuckles, and that's Jones's son, James West (Owen and Curtis Rufca).

Jones could jump into action, get James tested, and perhaps saves the day for Willow when all is said and done. GH spoilers promise plenty of unexpected drama in the little town, so anything is possible.

Will Liesl end up being a bone marrow match for Willow, or will James swoop in to help? Have your say below in the comments! Plus, you won't want to miss an episode of your favorite ABC daytime drama to see how this unfolds. Lastly, check this site daily for the latest in General Hospital news, spoilers, and updates!