General Hospital Spoilers: Mac Scorpio Delivers Devastating News
General Hospital Spoilers reveal Mac Scorpio (John J. York) will have to deliver some pretty unspeakable news in the coming days that is going to floor much of Port Charles. A few people will be left devastated in the wake of this event, and some may never bounce back from it, forever being shaped by the tragedy. Nikolas Cassadine (Adam Huss) is dead, and the PCPD is about to discover his body on Spoon Island.
It won't be easy news for Mac to break to his longtime friend and colleague, Mayor Laura Collins (Genie Francis). Laura will also have to break the news to others, including her grandson, Spencer Cassadine (Nicholas Chavez), who won't take it so well. Will anyone even notice Ava Jerome Cassadine's (Maura West) flat affect as the rest of Nikolas' family falls apart?
General Hospital Spoilers — Laura Collins And Spencer Cassadine Will Never Be The Same
Losing her children is something Laura has never been prepared for, despite how many times she has nearly lost each of them. Lucky Spencer (Jonathan Jackson) is always painted as a do-gooder off caring for the world instead of his sons, and for some reason, Laura is able to overlook his absent father status. Nikolas was never given the same grace since his reasons for opting out of being a good and present father were more overtly rooted in self-absorption — including that one time she did lose him when he pretended to be dead for four years.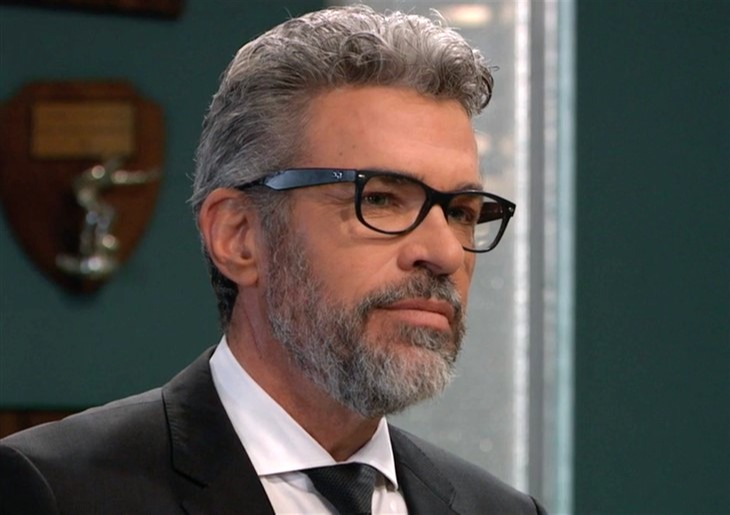 Meanwhile, Lulu Falconeri (Emme Rylan) is in a coma and may never wake from it, although rumors are swirling that she's about to wake up any day now. When Laura learns Nikolas really is dead this time, it's going to devastate her and she will want justice for her son. But will she look in the right direction — or will she automatically jump to the conclusion that it must have been Victor Cassadine (Charles Shaughnessy)?
GH Spoilers – Hint Esme Price Will Be Riddled With Anxiety
Esme has been counting on Nikolas being her knight in shining armor. He might not have planned to save her from herself after she leaped off that parapet and wound up with amnesia, but he was still willing to take on the job of raising their child as a single father. Esme had some comfort in knowing her baby would be with at least one of his or her parents while she served her time behind bars. Now, that option has been ripped away from her and she will have to reconcile what that might mean when she is separated from her baby.
General Hospital Spoilers — GH Fans Hope This is Done Right
GH fans are hoping the production team pulls Nikolas' death off better than they did the mess that ensued when they let Marcus Coloma go without renewing his contract. Nikolas deserves a proper goodbye in some fashion, but it's hard to imagine what that looks like when he hasn't a friend in the world. His uncle was blackmailing him, as was his wife, and his son. His best friend, Elizabeth Baldwin (Rebecca Herbst) had turned away from him. Nikolas was left with no one by his side, and his own siblings aren't even in the picture. What will this funeral look like? Stay tuned for more GH news and spoilers to find out.