General Hospital Spoilers Monday, December 10: Drew Rejects Flash Drive – Ava Tells Avery About Kiki's Death – Kiki's Funeral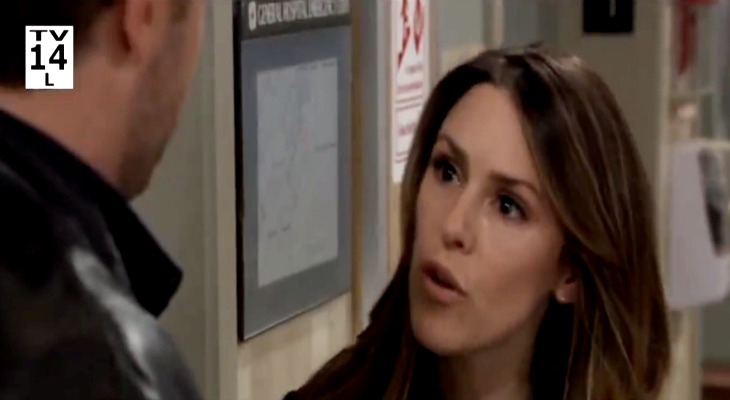 General Hospital spoilers for Monday, December 10, tease that Sonny (Maurice Benard) will be at a loss in response to Marcus' (Nigel Gibbs) warning to keep Mike (Max Gail) away from Yvonne (Janet Hubert). Sonny and Carly (Laura Wright) will likely be floored by the demand, as they don't control Mike's actions. But Marcus will insist that they contain Mike. "Your father is endangering Yvonne's health," he'll say.
GH Spoilers – Margaux Feels Guilty
Meanwhile, Margaux (Elizabeth Hendrickson) and Drew (Billy Miller) will continue their conversation at the hospital. Margaux is feeling guilty about withholding the flash drive from Drew, and she's just offered it to him. But Drew won't want it, which will puzzle Margaux. "Why are you so afraid to take it?" she'll say.
Next, on the new episode of GH on Monday, December 10, Jason (Steve Burton) will pay Oscar (Garren Stitt) a visit at the hospital. Oscar wants Jason to be the executor of his will, and the two will have some things to discuss about Oscar's wishes. "Tell me what you want, and I'll see if I can do it," Jason will promise him.
In the weekly #GH blog, loving Jason and Drew getting closer, the Daisy/Cult twist was a nice surprise, but will Sonny screw up and sleep with Margaux? https://t.co/QUjwUeZ5nl pic.twitter.com/PLXxK5f9OS

— Dustin Cushman (@BlueWizard75) December 7, 2018
General Hospital – Ava Tells Avery About Kiki's Death
Across town, Michael (Chad Duell) will have a grim task. He'll drop Avery (Ava and Grace Scarola) off at Ava's (Maura West) place with a message. He'll inform Ava that the family thought that she should be the one to tell Avery about Kiki's (Hayley Erin) death. Ava will sit down with her little one and try to share the news.
GH Spoilers – The Funeral Begins
Finally, on Monday, December 10, at the chapel, friends and loved ones will gather as Kiki's funeral begins. Before the service, Jordan (Briana Nicole Henry) will pull Ryan (Jon Lindstrom) aside for a chat. There will be a police presence at the service, as Jordan thinks that the killer might show up to enjoy his handiwork. Little does she know that she's talking directly to the killer!
It looks like we're in for a great episode on Monday! Stay tuned to the ABC soap and don't forget to check Celebrating The Soaps often for the latest General Hospital spoilers, updates, and news.
Read more news, spoilers, and gossip on our Celebrating The Soaps General Hospital homepage