General Hospital Spoilers: New Couple Alert, Can Esme Prince & Cameron Webber Find Love?
General Hospital (GH) spoilers hint that Esme Prince (Avery Pohl) will approach Laura Collins (Genie Francis) with an offer soon. Laura and Spencer Cassadine (Nicholas Chavez) are focused on giving Baby Ace Cassadine all the love and support he needs, especially in lieu of the fact that the little guy's father, Nikolas Cassadine (Adam Huss) is missing. Esme's turning a new leaf, and the fact that she can't remember her past crimes may work in her favor. Could she cut a deal with the D.A. to place her on house arrest? Could doing so land her at Laura's place? If so, this may also place her in Cameron Webber's (William Lipton) orbit.
General Hospital Spoilers -Two Young Characters With No One To Love …
GH spoilers suggest some shockers on the horizon, so fans should expect the unexpected. During a conversation with his mom Elizabeth Webber (Rebecca Herbst) recently, the young man talked about Esme and how he gave her a chance when she first hit Port Charles, and was burnt by her. Sounds like the soap could be setting up a possible new love story. After all, Esme's not with anyone right now, and doesn't at all seem preoccupied with Spencer.
Besides, the young Cassadine has finally solidified a romance with Trina Robinson (Tabyana Ali), much to the joy of Sprina fans everywhere. Meanwhile, Cam's suddenly single thanks to Josslyn Jacks (Eden McCoy) moving on to Dex Heller (Evan Hofer). Could a romance be on the horizon for Ms. Prince and Mr. Webber?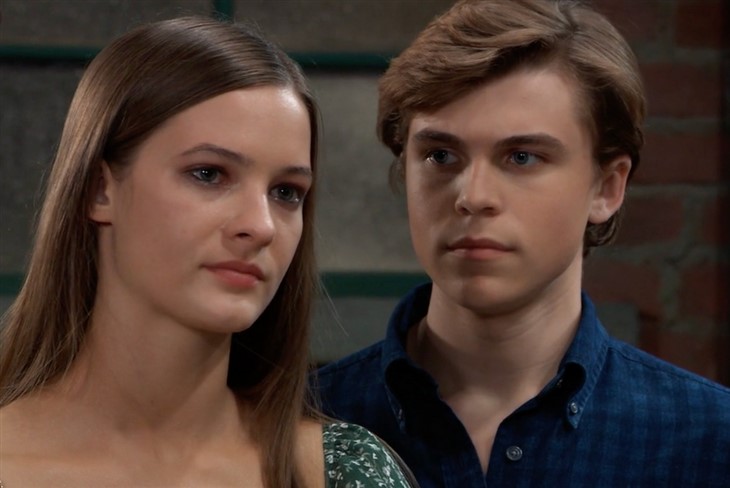 GH Spoilers – Laura Collins's Place Brings Them Together
Laura is Cameron's grandmother, so if Esme and the baby are staying with her, then he's bound to run into her if he visits the mayor. Would he also give his grandmother and his cousin a hand with the baby by taking Esme to doctor's appointments or something of that nature? The two could also run into each in town or at Kelly's. The fact that Esme is headed toward redemption, and the role she played in breaking his relationship up with Joss is key to all this.
Initially, Cam will likely be like many others; he'll question Ms. Prince's amnesia. He may have resentment towards the viral video of him and Joss, thus, throwing some attitude her way during their first encounters. With that said, the two will likely form a friendship at first and he'll possibly bond with Baby Ace in the process. In the end, Ms. Prince and Mr. Cameron could have quite the romance in Port Charles, and only time will tell if the writers decide to move in this direction.Could Esme and Cameron have chemistry? Share your thoughts, below! Plus, make sure to watch General Hospital on ABC to see how the drama will unravel and don't forget to visit this site daily for the latest GH spoilers, news, and updates!