General Hospital Spoilers Thursday, August 31: Diane Intrigued, Ava Frustrated, Mason's Ominous Warning, Brook Lynn Fuming
Check out all the craziness in Port Charles tomorrow!
General Hospital spoilers for Thursday, August 31 reveal that Diane Miller (Carolyn Hennesy) is growing more curious. Brook Lynn Quartermaine (Amanda Setton) is furious.
Harrison Chase (Josh Swickard) puts an offer on the table. Spencer Cassadine (Nicholas Alexander Chavez) opens up to his great aunt, Alexis Davis (Nancy Lee Grahn).
Ava Jerome (Maura West) is feeling defeated. Dex Heller (Evan Hofer) doesn't have the right answers for his girlfriend.
General Hospital Spoilers – Thursday, August 31, 2023: Diane Miller Is Intrigued
Diane is going to find herself feeling rather tempted. It's hard to say whether her intrigue will be with Robert Scorpio (Tristan Rogers) or Carly Spencer (Laura Wright) though.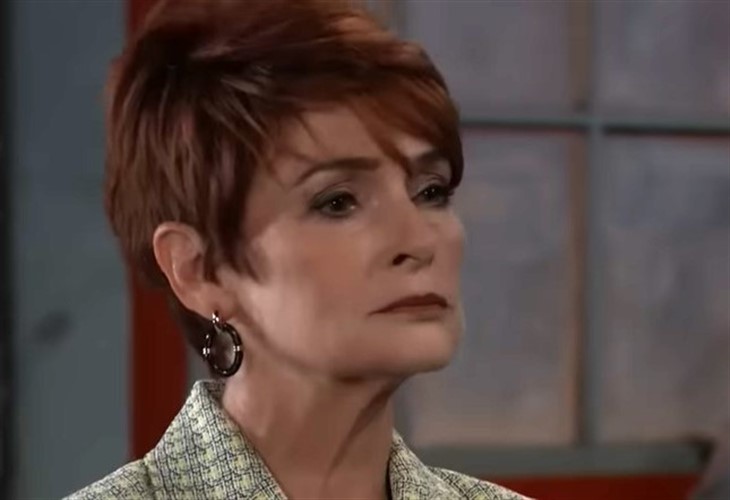 Robert has been keeping Diane on her toes, but she hasn't wavered from her original position; she's not going to fight for his attention.
On the other hand, Carly may want all of Diane's time until she can find a reasonable way to get Drew Cain's (Cameron Mathison) sentence commuted!
General Hospital – Spoilers Say Brook Lynn Quartermaine Is Raging
Brook Lynn is fuming over her grandmother's audacity. How could she seek to level Deception and destroy so many lives in the process — Brook Lynn's included if anyone ever finds out what she did handing that proprietary information over to her granny the way she did?
GH Spoilers — Chase Has A Proposition
With Brook Lynn insisting she can't stand to live with Tracy any longer, could Chase put a new offer on the table?
The last time they lived together, they were pretending to be parents to Maxie Jones' (Kirsten Storms) baby. This time around, it would be the real deal. Are they ready for that?
General Hospital Spoilers – Hint Alexis Lends Spencer Cassadine An Ear
Spencer will be wearing his heart on his sleeve when he tells his great aunt how important his little brother is to him. He couldn't imagine life without Ace Cassadine (Jay and Joey Clay). Will Alexis have any important legal advice to share with him?
READ THIS: Find out what happens next on General Hospital.
GH Spoilers — Ava Is Getting Nowhere
Ava trusted Sonny Corinthos (Maurice Benard) to handle things ever since she came clean about what she did to her ex-husband, Nikolas Cassadine (Adam Huss).
But it sounds like Sonny may not have had the luck he expected to with Betty Rutherford (Ella Lentini). Are they both being played?
General Hospital Spoilers — August 31 — Joss Isn't Pleased
Josslyn 'Joss' Jacks (Eden McCoy) is growing increasingly frustrated with Dex's job. Working for Sonny was never what she wanted for him long-term, but as the tension continues to rise in the business, her concerns may start to sound more valid to him.
Meanwhile, Mason Gatlin-Holt decides it is all going down tonight? Sounds ominous…..
Which storyline are you most looking forward to following on GH on Thursday, August 31st? Let us know, and keep checking back for more GH news and spoilers.