General Hospital Spoilers Thursday, September 21: Cyrus' Warning, Valentin's Deception, Carly Prison Update, Sam's Big Request
General Hospital Spoilers for Thursday, September 21, 2023, indicate Robert Scorpio (Tristan Rogers) may have found a way to help Drew Cain (Cameron Mathison).
Cyrus Renault (Jeff Kober) issues a warning to Drew. Valentin Cassadine (James Patrick Stuart) needs to decide what to do about Charlotte Cassadine (Scarlett Fernandez) targeting Anna Devane (Finola Hughes).
General Hospital Spoilers reveal Carly asks if Drew has news for Sonny Corinthos (Maurice Benard). Sonny has asked Drew to try to find out who Austin Holt (Roger Howarth) visited when he came to the prison that night.
Unfortunately, Cyrus has overheard Drew's conversation with the guard and has set up a bogus patient.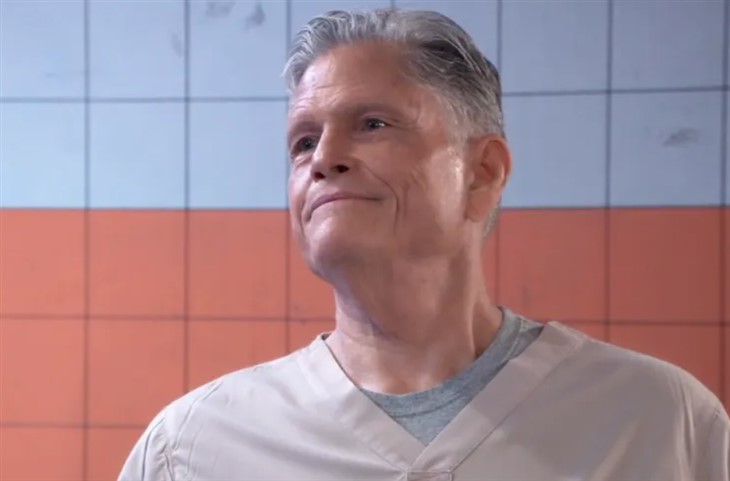 General Hospital Spoilers – Carly Corinthos Checks In With Drew Cain
Robert tells Diane Miller (Carolyn Hennesy) that he may have found a way to help Drew. Of course, Diane asked Robert to try to find information that points to the judge being biased against Drew.
Diane believes that the sentence that Drew received was too harsh and there should be a way to revert to the original plea agreement. Has Robert found a way to force this issue?
GH Spoilers – Cyrus Renault Warns Drew Cain
Cyrus warns Drew. This may be the warning where Drew learns is no longer under Sonny's protection. Of course, Sonny had no idea that the warden had been working with Cyrus to bring him down.
Drew is about to be attacked and ends up in the hospital Will Sonny find a way to make sure he has protection if her returns to Pentonville?
MUST READ – GH Spoilers: Disturbed Charlotte Targets Anna, Valentin Stupefied By Her Dark Side?
Sam McCall (Kelly Monaco) tells Willow Corinthos (Katelyn MacMullen) that there may be a way for her to help Sasha Gilmore (Sofia Mattson).
Of course, Sasha has been in Ferncliff for weeks, and all of the time, Gladys Corbin (Bonnie Burroughs) has been having Sasha drugged to keep control of her money. Is it finally time that Gladys pays for her crimes?
General Hospital Spoilers – Nina Reeves Questions Valentin Cassadine
Nina Reeves (Cynthia Watros) asks what Valentin is going to do about Charlotte targeting Anna.
Unfortunately, Valentin has chosen not to tell Anna what he has found. Anna has called in the cops to search her room to see if any evidence has been left behind. Will the cops link Charlotte to the break-in and trashing of Anna's room?
Olivia Quartermaine (Lisa LoCicero wonders if Anna knows who might want to do this to her. Of course, Anna has no direct answers at this time. Will the truth finally come out that Charlotte is behind everything that has been going on all along?
Eddie Maine/Ned Quartermaine (Wally Kurth) is excited about his upcoming gig at the Savoy. Will Eddie and Olivia connect over his performance there?
Be sure to catch up on everything happening with GH right now. Come back here often for General Hospital spoilers, news, and updates.