General Hospital Spoilers: Nina Will Confess To Willow — Will Her Daughter Spill The Beans To Michael And Carly?
General Hospital spoilers tease Nina Reeves (Cynthia Watros) is growing closer to Willow Corinthos (Katelyn MacMullen) every day, and she's eager to see what the future holds for them as mother and daughter.
At the same time, every moment she spends with Willow is laced with worry that she will lose her daughter. Willow has an exceptionally strong relationship with Carly Spencer (Laura Wright).
Learning that Nina took a jab at Carly with the SEC could decimate their newfound relationship. But to Nina's surprise, Willow might be willing to keep her secret between them.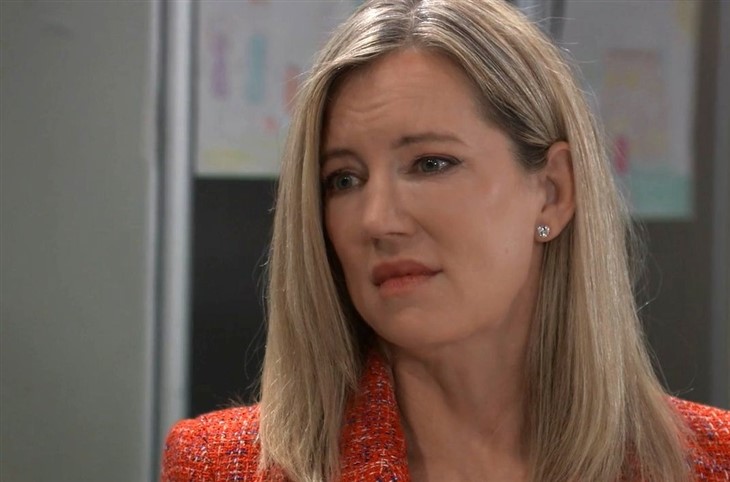 Still, we all know the truth has a way of finding its way out.
General Hospital Spoilers — Nina Reeves Tells All
Nina has never been very good at keeping secrets. Sure, she has plenty of them, but it's killing her to keep them close to her chest.
Fans have noticed that she only really confides in Ava Jerome (Maura West), and it's clear Nina has never stopped to wonder why Ava never confides in her in return. Doesn't Ava trust Nina to keep a secret?
Appears not! Nonetheless, Nina is tired of carrying this weight. She is terrified of what could happen if Willow knew what she has done, but she also doesn't want to keep going down this road with Willow of nurturing their mother-daughter relationship while constantly worrying the rug is going to be pulled out from under her.
Confessing her sins to Willow is the only way to set herself free, even if she loses her in the process.
GH Spoilers – Claim Willow Tait And Nina Reeves Make A Pact
It's going to work in Nina's favor soon that Willow may be upset with Carly upon learning how she was instrumental in keeping Michael Corinthos (Chad Duell) tethering to Dex Heller (Evan Hofer) — and the mob — just to keep Sonny Corinthos (Maurice Benard) safe.
READ THIS: Find out what happens next on General Hospital.
She doesn't exactly agree with putting Michael and their family at risk for Sonny's sake. When Nina tells Willow the truth about how hard she tried to call a truce with Carly, but that it came just a few days too late after she instigated the tip to the SEC, she will be stunned to find that Willow is considerate enough to forgive her.
Allowing for some grace and understanding her plight, Willow just might swear Nina to secrecy and promise to never tell what she has done.
General Hospital Spoilers — Michael Corinthos, Sonny Corinthos, And Carly Spence Are In The Dark
Keeping Michael, Sonny, and Carly in the dark about what Nina has done is going to be an extraordinary move for Willow. Suddenly, her alliance has shifted and it seems she may care more about keeping her entire family intact than giving the benefit of the truth to those who have been there loving her all along, absent any familial obligation to.
Carly was like a mother to Willow during the darkest of times, yes, but Nina is her mother, and Willow cannot overlook that now.
Of course, the truth is bound to come out down the road and it will not only be Nina on the hook, but Willow alongside her. How can this possibly work out? Stay tuned for more GH news and spoilers just ahead.