General Hospital Spoilers Tuesday, July 25: Sonny Raging, Ava Threatened, Dex's Troubling News, Dante Suspects
General Hospital spoilers for Tuesday, July 25, 2023, reveals Ava Jerome (Maura West) confesses. Elizabeth Baldwin (Rebecca Herbst) and Hamilton Finn (Michael Easton) try again.
Sonny Corinthos (Maurice Benard) tells Dex Heller (Evan Hofer) how to proceed. Brook Lynn Quartermaine (Amanda Setton) challenges someone. Portia Robinson (Brook Kerr) attempts to be supportive. Dante Falconeri (Dominic Zamprogna) pokes around. Someone warns Ava. Dex delivers news.
General Hospital Spoilers – Tuesday, July 25, 2023: Ava Jerome Tells All
Ava just might get fed up with the lies enough to come clean. But who is she telling her secrets to this time? She has a history of trusting the wrong people, so we hope she's being smart about it.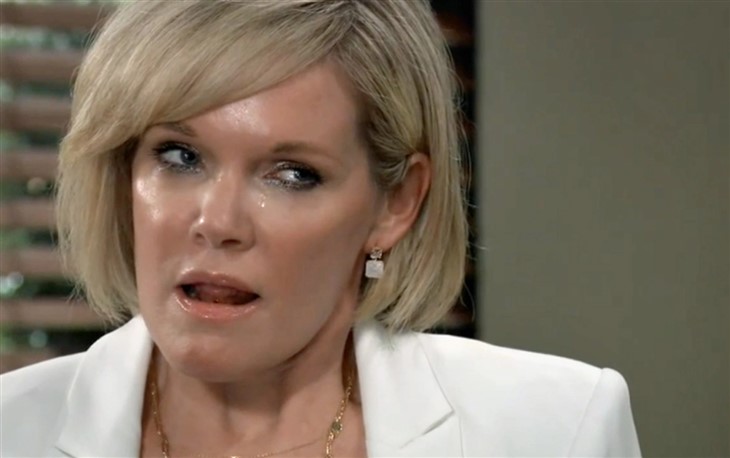 General Hospital Spoilers – Say Liz Webber And Finn Go On A Date
Liz and Finn are starting over, or are they picking up where they left off? Let's hope they're finally on the same page and will be able to stay that way. Is something or someone else destined to pull them apart?
GH Spoilers — Sonny Corinthos Directs Dex Heller
Sonny Rages at someone and then Dwill direct Dex on how to move forward with the task at hand. Disposing of a body is small potatoes, right? Poor Gordon Stevens (Maurice Hall).
General Hospital Spoilers – Hint Brook Lynn Quartermaine Double Dog Dares Ya
Brook Lynn is putting someone on the spot. Is she challenging Tracy Quartermaine (Jane Elliot) to see whether she'll really tell Harrison Chase (Josh Swickard) the truth about her corporate espionage side hustle? Or might Brook Lynn taunt Chase into breaking the rules and walking on the wild side with her for a minute?
GH Spoilers — Portia Robinson Offers Support
Curtis Ashford (Donnell Turner) is busy looking for miracle solutions because settling for a diagnosis of lifelong paralysis doesn't work for him. Portia is going to try to support him as she assumes this is his way of grieving, but it might come across as though she doesn't have faith that he can ever walk again.
GH Spoilers — Dante Falconeri Starts Digging
When Dante starts his investigation, he'll have no choice but to wonder whether Gordon was a connection of Sonny's. When bodies turn up in Port Chuck, that is often one of the first questions asked.

General Hospital Spoilers – Leak Someone Warns Ava Jerome
Ava will be as quiet as a mouse when someone issues her a word of caution that her choices could end up costing someone she loves a great deal. Let's hope this is about Pilar Rodrigeuz (Brenda Barberena) being replaced and Avery Corinthos (Grace Scarola) being heartbroken, and not something much worse.
General Hospital Spoilers — July 25 — Dex Heller Delivers News
Dex may have to fill Sonny in on trouble moving ahead with the orders he gave. But he may also have to report back to his other boss, Michael Corinthos (Chad Duell). Is Michael about to get wrapped up in mob business that cost a man his life?
Which storyline are you most looking forward to following on GH on Tuesday, July 25th? Let us know, and keep checking back for more General Hospital news and spoilers.
For more about what's happening on your favorite soaps and more ways to connect with us, join the conversation on our YouTube Page or our Facebook Page, check out our Twitter feed, look for an update on our Instagram, follow us on Threads , Always stay up-to-date with us on Google News, or drop us an e-mail HERE! See you there!