General Hospital Spoilers Wednesday, April 19: Laura Cautions, Victor Hindered, Spencer's Warning, Nina Struggling
General Hospital spoilers for Wednesday, April 19, reveals Curtis Ashford (Donnell Turner) realizes he may have a way to track Victor Cassadine (Charles Shaughnessy) down. Laura Collins (Genie Francis) stops Curtis in his tracks. Spencer Cassadine (Nicholas Chavez) warns Trina Robinson (Tabyana Ali). Victor figures out he has hit a bump in the road.
Nina Reeves (Cynthia Watros) is trying to come to terms with her reality. Ava Jerome Cassadine (Maura West) gives Carly Spencer (Laura Wright) a lot to think about. Elizabeth Baldwin (Rebecca Herbst) flatters Austin Gatlin Holt (Roger Howarth), who might need a favor. Sonny Corinthos (Maurice Benard) questions Nina.
General Hospital Spoilers – Wednesday, April 19, 2023: Curtis
Ashford

Is Onto Something

He may not know if he's Trina's father or not, but Curtis sure is acting like one. Meanwhile, where is Marcus Taggert (Réal Andrews) — the former cop whose daughter is missing and in danger? It seems like we're gearing up to watch Curtis step into that role, however, when he thinks he has the right plan in mind, someone is going to warn him to proceed with caution.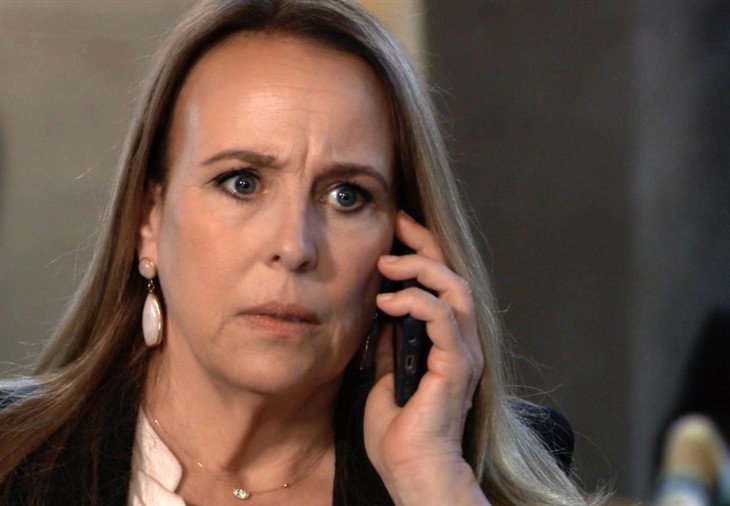 General Hospital Spoilers -Say Laura Collins Says Not So Fast
Laura understands how eager Curtis is to find Trina, but she doesn't want him to get so caught up in his anticipation that he can overcome Victor that he makes a misstep. He doesn't know Victor like she does, and she isn't keen on his plan to approach him the way he wants to.
GH Spoilers — Spencer Cassadine Levels With Trina Robinson
Trina thinks she can outmaneuver Victor, too, but she has another thing coming. Much like his grandmother is warning Curtis, Spencer will warn Trina not to get ahead of herself. Being careless could spell disaster for everyone on board The Haunted Star.
General Hospital – Spoilers Hint Victor Cassadine Hits A Snag
Victor's plan to lead the ship to a remote destination where they can't be found with everyone on board following such lead has hit a bump in the road. How will he figure out his way around this one when his captives just want to fight back?
GH Spoilers — Nina Reeves Struggles With Willow Tait's Fate
Nina is trying to keep the faith that someone is going to come through and save her daughter's life, but Willow Tait (Katelyn MacMullen) is getting weaker by the hour. It's too bad Sonny isn't of much comfort to her right now since they're keeping their distance from one another.
General Hospital Spoilers – Suggest Ava
Jerome

Makes Carly Spencer Think

Carly doesn't think Ava and Nina could possibly have anything in common that isn't built on their shared distrust and dislike for her, but she couldn't be more wrong. Ava will give her a lot to think about. Might she remind Carly that all three of them know what it's like to lose a child? Nina and Ava also know what it's like to live in Carly's shadow.
GH Spoilers — Liz Baldwin Compliments Austin Gatlin-Holt
When Elizabeth compliments Austin, he could receive her kind words as just that — or he might feel undeserving of them. Will he request that she never do so again? Is this the beginning of a friendship — or something more — for Elizabeth and the hunky but secretive doctor?
General Hospital Spoilers — April 19 — Sonny
Corinthos

Calls Out Nina Reeves

Sonny will be surprised by something and he's going to put it on Nina's radar. Does she know anything about his latest concern, and if so, why didn't she alert him?

Which storyline are you most looking forward to following on GH on Wednesday, April 19th? Let us know, and keep checking back for more General Hospital news and spoilers.