General Hospital Spoilers Wednesday, April 5: Gladys Squirms, Brook Lynn Furious, Spencer Uncomfortable, Nina's Reality
General Hospital Spoilers for Wednesday, April 5th leak the Nurses' Ball is kicking off with several key performances underway. Brook Lynn Quartermaine (Amanda Setton) checks Blaze (Jacqueline Lopez). Cody Bell (Josh Kelly) gives Gladys Corbin (Bonnie Burroughs) an ultimatum.
Valentin Cassadine (James Patrick Stuart) takes Anna Devane (Finola Hughes) by surprise. Curtis Ashford (Donnell Turner) catches up with Nina Reeves (Cynthia Watros). Trina Robinson (Tabyana Ali) makes time to clear the air with Spencer Cassadine (Nicholas Chavez).
General Hospital Spoilers Wednesday, April 5, 2023: The Nurses' Ball Takes Flight
After sixty years, General Hospital has become a testament to the love the city of Port Charles shares with its citizens. Everyone who's anyone will be walking the red carpet and dancing the night away — although some key players will be missed as they have stayed at home to catch the show on-screen, Lucy Coe (Lynn Herring), Valentin, and Anna being a few of them.
General Hospital Spoilers Say Brook Lynn Quartermaine Is Furious
When Brook Lynn heads backstage to check in with Blaze, the last thing she's expecting to see is someone else there with her. Is it Linc Brown (Dan Buran)? What would he be doing there when Harrison Chase (Josh Swickard) and Blaze are appearing for charity?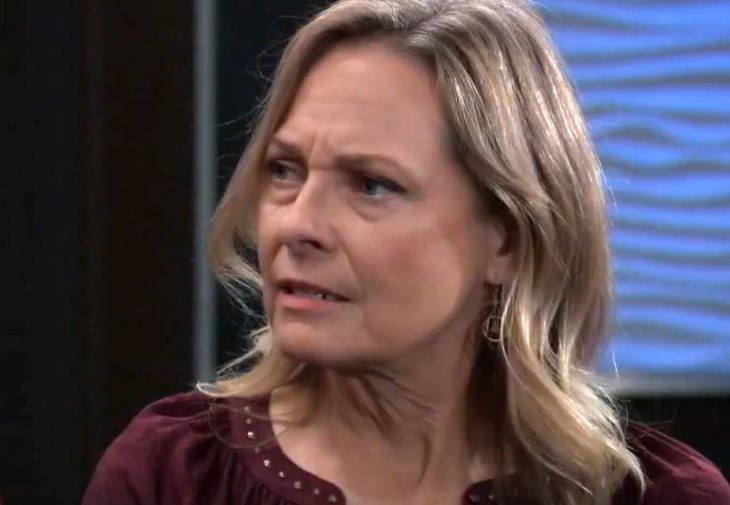 GH Spoilers — Cody Bell Hands Gladys Corbin The Cold, Hard Truth
Gladys has been sneaking around behind Sasha GIlmore Corbin's (Sofia Mattson) back for a while now — and doing some pretty shifty things on her dime. Brando Corbin's (Johnny Wactor) garage has been sold to Selina Wu (Lydia Look) to cover Gladys' gambling debts. Now that Cody is aware Gladys hasn't even learned from her mistakes, he'll make sure she knows Sasha is going to learn about them — one way or the other.
General Hospital Spoilers Hint Valentin Cassadine Romances Anna Devane
Valentin has big plans for his future with Anna — just as soon as they get out of that darn safehouse. Will he let on to what he hopes lies in wait for them, and how will Anna take it when he does?
GH Spoilers — Curtis Ashford And Nina Reeves Chit-Chat
Curtis and Nina are old friends, but they've got more in common than ever as of late. If surprise daughters weren't enough to bond these two, combined with having someone else betray them cruelly in the process, they just might seek comfort with each other as they realize their relationships aren't going to turn out as they had planned. Curtis can't lie to himself about who Portia Robinson (Brook Kerr) is and what she's done, and the same goes for Nina when it comes to Sonny Corinthos (Maurice Benard).
General Hospital Spoilers — April 5 — Trina Roinson Puts Spencer Cassadine On The Spot
Esme Prince (Avery Kristen Pohl) conveniently got in the way of Spencer and Trina's goodbye when she stopped by Laura Collins' (Genie Francis) place the other day. Now, she just might blow up their chances of enjoying the Nurses' Ball together, too. Who's bringing Esme, and did anyone ask Trina how she wanted to spend her evening — with Spencer?
Which storyline are you most looking forward to following on GH on Wednesday, April 5th? Let us know, and keep checking back for more General Hospital news and spoilers.